Long, but if the water is high, should be fast: 16 1/2 miles from Berrien Beach Landing to Lakeland Boat Ramp on the lovely wild Alapaha River Water Trail.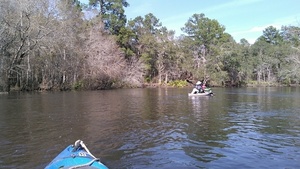 As long as the rains keep coming, the river should be high and it should take less time than the usual estimate of eight hours. Bring the usual personal flotation device, boat paddles, food, drinking water, warm clothes, and first aid kit. There is no good place to take out before the end point, so be prepared to paddle all day.
When: 7:00AM, Saturday, February 11th, 2017
Put In: Berrien Beach Ramp, on GA 168 east of Nashville, Berrien County, Georgia, at 31.159076, -83.045554.
Take Out: Lakeland Boat Ramp on GA 122 just east of Lakeland, Lanier County, Georgia.
Free: This outing is Free! And we recommend you support the work of WWALS by becoming a WWALS member today!
Paddle Distance: 16.5 Miles
Paddle Duration: 8 Hours
Shuttle Distance: 10 Miles ( one way )
Shuttle Duration: 13 Minutes ( one way ) 30 Minutes Total
Water Level Gauge: Alapaha Ga – 02316000 upstream and Statenville – 02317500 downstream.
Host and Contact: Phil Hubbard (229) 740-2016
Backup: In case of low or high water, Banks Lake, west of Lakeland on GA 122, same time.
For more outings and events as they are posted, see the WWALS calendar.
-jsq
You can join this fun and work by becoming a WWALS member today!
Short Link: