FOR IMMEDIATE RELEASE
Live Oak, FL, January 20, 2017 — You are invited to the Historic Florida State Capitol steps Tuesday January 23rd noon to 3:30 PM to hear principal guest speaker Karenna Gore and others Hold Regulatory Agencies Accountable.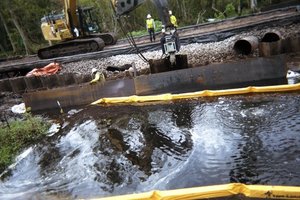 John S. Quarterman, Suwannee RIVERKEEPER®, will talk about how we all fought the invading Sabal Trail fracked methane pipeline and its extension Florida Southeast Connection for the past three years. Deanna Mericle will talk about what her personal experiences of moving Sabal Trail off the Withlacoochee River in Florida and continuing the fight with WWALS Watershed Coalition through a legal case, WWALS vs. Sabal Trail & FDEP. Merrillee Malwitz-Jipson, Sierra Club Campaign Organizer, will present an extensive list of complaints and violations. The festivities will include #FLEXIT, the Florida Statewide Bank Exit, and delivery of a statement to Governor Scott.
When: 12 Noon- 3:30 pm, Monday, January 23, 2017
Where: Florida State Historic Capital Steps
400 South Monroe Street
Tallahassee, Florida
Event: facebook
Below is the press release from the principal organizer, Shannon Larsen, slightly edited, and a letter she sent inviting Governor Rick Scott and his cabinet. The pictures are by Shannon Larsen of what FSC did to her Fort Drum Creek.
-jsq, John S. Quarterman, Suwannee RIVERKEEPER®
You can join this fun and work by becoming a WWALS member today!
FORUM

Hold Our Regulatory Agencies Responsible and Accountable
Shut down Sabal Trail (STT) and Florida Southeast Connection (FSC) Fracked Gas Underground Pipeline Projects
No More Fracked Gas or Fracked Oil transported by pipelines or by any other means to Florida
No more gas or oil drilling on our Florida Lands or in Florida Waters
Energy Providers Must Provide Solar and other Renewable Energies

Guest Speaker: Karenna Gore
Director
Center for Earth Ethics
New York City

When regulatory agencies fail to properly exercise their legal obligations it jeopardizes public health and safety, our natural environment, waters, air and wildlife. All these have failed: Federal Energy Regulatory Commission (FERC), US Army Corps of Engineers (USACE), and Florida Department of Environment Protection (FDEP). This is unacceptable.

We are seeing and experiencing the damaging consequences resulting from these regulatory agencies not properly reviewing this enormous project, and their failure to properly monitor the pipeline corridor. The results have been devastating to both the landowners within the pipeline corridor and to our natural areas, natural systems, waters and wildlife. This is unacceptable.

Placing fracked gas underground pipelines close to homes and schools, cemeteries, and church yards, places families and communities at risk. People directly impacted by these fracked gas underground pipelines have suffered greatly, and live in constant fear that not if, but when there is a leak or explosion on their land or their neighbors land. This is unacceptable.

STT and FSC pipeline projects are decimating our waterbodies, vanishing wetlands, Old Growth Trees, vegetation, and wildlife habitat. Not if, but when there is a leak or an explosion resulting from fracked gas pipelines, that have been placed underground, in our rivers, creeks, and other waterbodies we will face a catastrophic tragic event. This is unacceptable.

Speakers at this event will share their individual stories of how STT and FSC have violated their lives, properties, and communities. and will be speaking about the many violations and complaints filed by residents of Florida against STT and FSC. There will also be people speaking for the Wildlife that were heavily impacted through loss of habitat, disorientation, and death. Long time STT and FSC activists will give an overview of STT and FSC.

STT and FSC, FERC, USACE, and FDEP must be held responsible and accountable for crimes against humanity and nature.

Contact: Shannon Larsen, Ancentrees@hotmail.com, 904-654-0200

Sponsored by: Council of the Original Miccosukee Simanolee Nation Aboriginal Peoples, Ancient Trees, and ReThink Energy.
January 23, 2017
Governor Scott and Cabinet
Florida Representatives and Senators

INVITATION

An invitation is extended to all of you to attend a Forum on January 23, 2017 from 12 Noon to 3:30 PM on the front steps of the Historic Capital.

This is an exceptional opportunity offered to the public and to each of you to learn firsthand from individuals and groups who have been actively involved in defending Florida's Natural World against the intrusion of Southeast Market Pipeline Project, more specifically Sabal Trail and Florida Southeast Connection Pipelines.

Private lands, and public lands have been unwilling taken through eminent domain and irreversible damage has occurred along the pipeline corridor to our Natural Areas, Waters, and Wildlife habitat.

People living along the pipeline corridor live in daily fear of a gas leak or explosion on their property, or at their neighbors' property, or at nearby schools, cemeteries, or church yards.

The Forum is an opportunity for people who have been personally violated by the pipeline projects. It provides an opportunity for them to share what they and their families have endured, and continue to endure. The Forum will also spotlight the many recorded violations by the Southeast Market Pipeline Project.

Our special guest speaker, Karenna Gore, Director, Center for Earth Ethics in New York City, will offer her insight into the many problems that humanity and our planet is facing today.

We welcome you, and extend an opportunity for you to speak and show support to those people who have been, and are being transgressed by the Southeast Market Pipeline Project.

Shannon Larsen, Co-organizer, Ancient Trees, Ancientrees@hotmail.com 904-654-0200.
Short Link: