It's not just two connected pipelines; it's at least five just in Florida. Audubon Florida did endorse Sabal Trail starting with FPL's first announcement. And sure, Ms. Grover, your "safety programs are designed to prevent pipeline failures", but they haven't actually stopped numerous incidents of corrosion, leaks, explosions, and compressor station blowouts. Other than those things, it's a pretty good story.
Beth Kassab and Kevin Spear, Orlando Sentinel, 2017-04-01, Gas pipeline across Central Florida brings cheap energy and protests,
The WWALS Watershed Coalition, which advocates for protection of Florida and Georgia rivers, has staunchly opposed nearly every aspect of Sabal Trail, which crosses under the Suwannee, Santa Fe and many other rivers.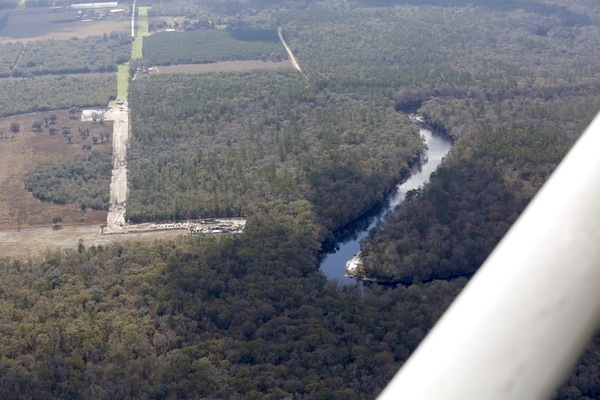 South to Suwannee River, HDD Suwannee County, RoW with pipe already buried, 30.4117310, -83.1566490
Coalition spokesman John Quarterman called the pipeline a profit bonanza for private companies and a boondoggle for utility customers.
Well, I said it's a boondoggle for the utility, namely FPL, at the expense of its customers. Here's why I say that, including that FPL admitted in its 2016 Ten Year Plan that Florida needs no new electricity until 2024 at the earliest, contradicting FPL's 2013 excuse for Sabal Trail.
Back to the Orlando Sentinel:
Audubon Florida has not endorsed Sabal Trail but has been supportive of FPL's use of natural gas.
Well, except for being quoted in FPL's 26 July 2013 press release announcing Sabal Trail:
"Natural gas, especially when used in combination with solar energy, generates far fewer emissions than coal or oil," said Eric Draper, executive director of Audubon of Florida. "Audubon provided guidance on the proposed pipeline route, and we commend FPL for working to avoid sensitive habitats."
And except for writing a letter to FERC endorsing Sabal Trail and being quoted in the press under the headline "Audubon Florida supports Sabal Trail natural gas pipeline".
An endorsement letter to FERC that EPA chose to believe over numerous objections from Sierra Club, WWALS, and many others.
Back to the Orlando Sentinel story:
"Gas is better on air emissions than any other fuel," said Charles Lee, the conservation group's advocacy director.
Well, that's not true: hydrogen cracked from sea water with solar power is cleaner. And how about no fuel at all, as in solar onshore and wind power off the Atlantic coast for the Sunshine State? Mark Z. Jacobson's Stanford research group has spelled out how everything in Florida can be powered by wind, water, and sun power, and nothing else, with real jobs (not fake pipeline jobs temporarily employing crews from other states), better health, and lower power costs.
No article on Sabal Trail is complete without omissions by Andrea Grover. Thanks to the Orlando Sentinel for not publishing as much of her disinformation as was included in another story. Here's what the Sentinel included:
Sabal spokeswoman Andrea Grover said the high-strength carbon pipe, produced in Panama City and Mobile, Ala., is coated under high temperature with epoxy on the outside and, while not required, also inside the pipe to prevent corrosion.
She didn't mention the pipe was illicitly stockpiled in a pipe yard north of Lake City that as near as I can tell was never explicity approved by FERC even after WWALS called in the Army Corps of Engineers.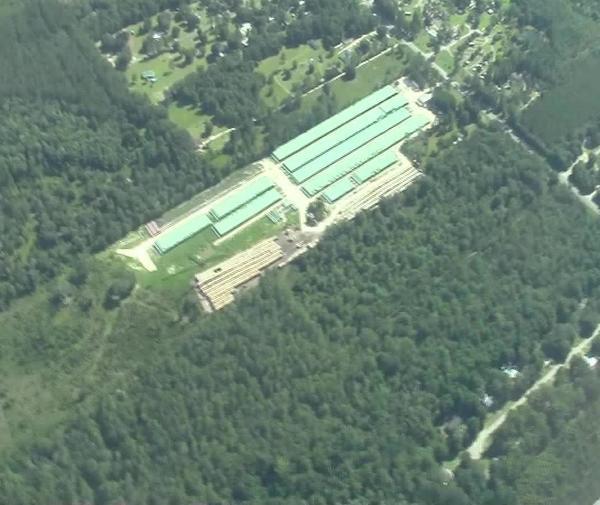 "Our safety programs are designed to prevent pipeline failures, detect anomalies, perform repairs and often exceed regulatory requirements," she said.
Notice she didn't say Sabal Trail's safety programs actually do any of that. Her pipeline company, Spectra Energy, has a thirty-year rap sheet of corrosion, leaks, and explosions, almost all not detected by Spectra. On 21 December 2013, the U.S. Pipeline & Hazardous Materials Safety Agency (PHMSA) sent a Final Order to Spectra CEO Greg Ebel for five violations of federal regulations and Spectra's own company procedures. On 14 July 2015, Canada's National Energy Board (NEB), tiring of calling Spectraout on violation after violation, issued a blanket order to Spectra to fix its "management system failures."
About those other pipelines that Ms. Grover never seems to mention:
Sabal Trail is the longest and most notorious pipeline, starting in Alabama across the Tallapoosa River, into Georgia across the Chattahoochee, Flint, Ochlochonee, Withlacoochee, Suwannee, and Santa Fe Rivers to Kissimmee south of Orlando.
The Citrus County Pipeline, from Sabal Trail's Dunnellon Compressor Station at FL 200 in Marion County across the Withlacoochee (south) River through Citrus County to Duke's Crystal River natural gas plant and Strom Inc's liquid natural gas (LNG) export operation.


End of Sabal Trail Citrus County Line at Duke natural gas plant, Crystal River, FL, 28.9645270, -82.6695110

The Hunter's Creek Pipeline, from Sabal Trail's Reunion Compresssor Station in Kissimmee, FL, through wetlands, subdivisions, and past shopping malls 6 miles south of Disney World.


NW past Central Florida Pipeline Corp. to Reunion Compressor Station, 6781 Osceola Polk Line Rd, Davenport, FL 33896, 28.2610489, -81.5572004

FPL's Florida Southeast Connection (FSC) from the Reunion Compressor Station south of Orlando to Indiantown in Martin County on Lake Okeechobee.


FSC Alignment Maps from May 2016, courtesy Lowndes Area Knowledge Exchange (LAKE).

FPL already built a 32-mile pipeline from FSC to Riviera Beach.

Kinder Morgan (KMI)'s Jacksonville Expansion Project (JEP) from Sabal Trail in Suwannee County near the O'Brien compressor station to Jacksonville, where JAXport has been loudly gearing up for LNG export for years now.
Sure, Williams Transco's Hillabee Expansion Project in Alabama, Sabal Trail from there through Georgia to Orlando, and FSC from Orlando to Indiantown on Lake Okeechobee were all permitted by FERC as the Southeast Markets Pipeline Project (SMPP), including the two Sabal Trail offshoots the Citrus County Pipeline and the Hunters Creek Pipeline. But FPL's Riviera Beach pipeline and KMI's JEP were not included in SMPP. Nor were the four and more LNG export operations in Crystal River, Indiantown, and elsewhere that are already authorized to liquify Sabal Trail methane for export, nor the authorization of Florida East Coast Railway (FECR) to carry it by rail as far as Jacksonville and Miami: those were all authorized by the Department of Energy's Office of Fossil Energy (FE). For example, a company from Wyoming based in Chicago (Advanced Energy Solutions or AES) was rubberstamped in November 2013 to export liquid natural gas (LNG) from the Port of Palm Beach, and it can transport LNG "over highways and/or by rail".
These piecemeal authorizations have a legal technical term: segmentation. At least one U.S. District Court found such segmentation illegal in another case.
Meanwhile, most Floridians have no idea how extensive Sabal Trail's inky squid arms of extra pipelines, LNG liquification, and bomb trucks, trains, and ships really is.
Regulation isn't working to control pipelines. Now that solar power has already won the economic race, it's time to stop building any new pipelines.
-jsq, John S. Quarterman, Suwannee RIVERKEEPER®
You can join this fun and work by becoming a WWALS member today!
Short Link: