Naturally a party of people we know were paddling across the Okefenokee Swamp over the weekend, but far north of the fire, so they had no problems, getting out just before the overnight stops in the Okefenokee NWR close today. Apparently they could see skyglow of the West Mims Fire on the southern horizon at night. Meanwhile, smoke has been seen as far north as North Carolina and I can smell it in Lowndes County, 60 miles west of the fire.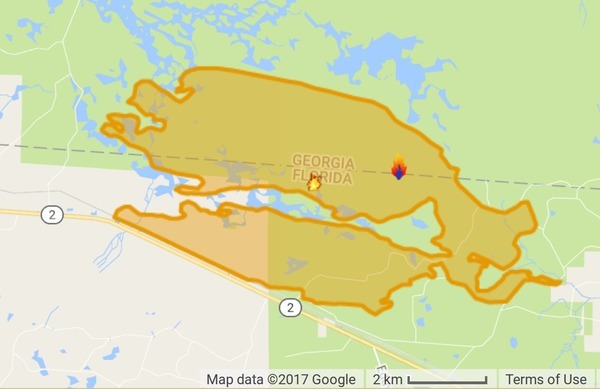 Map by InciWeb, 16 April 2017.
Hannah Patrick, WWAYTV3, Wilmington, NC, 16 April 2017, Strong winds drive smoke from Georgia Wildfire into NC,
Multiple media outlets report that the National Weather Service in Raleigh said southwest winds pushed the smoke up Sunday from the southeast Georgia fire.

The Division of Environmental Quality air quality index number for the Triangle area of Raleigh, Durham and Chapel Hill hit the orange alert level Sunday. That means people who are sensitive to air quality should stay inside.

Officials believe the smoke is coming from the Georgia fire and not one in McDowell County, North Carolina, that the U.S. Forest Service said was about 85 percent contained as of Sunday.
InciWeb says the number of personnel has increased to 184, the number of engines to 17, and the number of tractor plows to 27; still 5 dozers and one hot shot crew. However, the acreage burned has increased to 18,551, with still only 3% contained, and the same estimated containment date two months out of Thursday June 15th, 2017 approx. 12:00 AM.
The fire still seems to be staying within the mile-wide buffer zone around the NWR established by the Okefenokee-Osceola Local Implementation Team.
Before we and our ancestors massively modified the environment of the U.S. southeastern coastal plains, back when there was a longleaf pine forest from southern Virginia to eastern Texas, lightning-lit fires would burn for many miles and many days.
-jsq, John S. Quarterman, Suwannee RIVERKEEPER®
You can join this fun and work by becoming a WWALS member today!
Short Link: