With the Suwannee River low, you can see the effluent coming out of the pipe west of Live Oak, FL. Pilgrim's Pride just rejected a shareholder resolution to curb water pollution from its operations. And Aviagen is opening a chicken breeding operation in Brooks County, GA, in the watershed of the Withlacoochee River, upstream of the Suwannee.

Pilgrim's Pride, Proud to Dump into Suwannee River? from Merrillee on Vimeo.
"Pilgrim's Pride discharges over 2 million gallons a day of liquid poultry wastes in the Suwannee River from a meat rendering facility located north of Live Oak, FL." Thanks to Merrillee Malwitz-Jipson of Sierra Club for .this video, which she showed me, along with many pictures, when she was in Valdosta for the VDT interview with Randy Dowdy about Sabal Trail destroying his farmland.
I asked Merrillee whether this pipe was in the outflow canal from the Duke Energy power plant. She said no, directly into the river. I wondered why we hadn't seen it when paddling past there. Because the water level is very low now, so the pipe is exposed.
Update 2017-05-13: People want to know where is the Pilgrim's Pride plant: 19740 U.S. 90, Live Oak, FL 32060.
Update 2017-05-06: Directions from Merrillee, which seem to lead to about 30.365490, -83.191552:
For anyone that cares to take in a gander! You can see the pipe in the Suwannee River off of state owned lands. Off River Road turn right onto Cedar Lane and follow it down till it ends. Duke Energy's fence line borders the road. If you see a series on manholes on the right of the dirt road as you drive, you know you are there!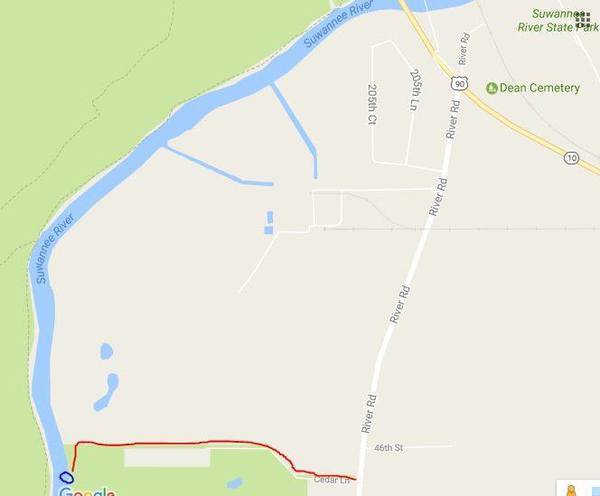 This is the effluent about which Environment Florida is suing Pilgrim's Pride.
John Rumpler, Environment America, 28 April 2017, Pilgrim's Pride Rejects Groups' call to curb pollution,
Today, Pilgrim's Pride—second-largest chicken producer in the world—rejected a shareholder resolution (Proposal 6) calling on the company to curb water pollution from its operations and supply chain. The company's refusal to clean up comes even as it faces a citizens' suit from Environment America and the local Sierra Club chapter for dumping toxic wastewater into Florida's Suwannee River. In response, Environment America's clean water program director John Rumpler issued the following statement:

Instead of cleaning its coop, today Pilgrim's has decided to chicken out on its responsibility to stop fouling America's waterways.

Pilgrim's Pride operations and supply chain, which processes roughly 37 million birds per week, is responsible for significant water pollution in several states, including Texas, Florida, and Virginia. In addition to millions of pounds of manure and runoff from feed production, the company's own processing plants dump pollution directly into our rivers and streams. In 2014 alone, Pilgrim's Pride facilities dumped more than half a million pounds of toxic pollutants into U.S. waterways, according to the Environmental Protection Agency's Toxic Release Inventory.

In Florida alone, the company has been dumping pollution into the Suwannee River from its poultry processing plant in Live Oak, Florida. As alleged in our citizens' suit under the Clean Water Act, this one facility has committed 1,377 days of Clean Water Act violations since 2012, all from discharging wastewater into the river that exceeds pollution standards by as much as triple the legal limits.

One of the world's largest meat companies dumping pollution into our rivers, and now they have officially rejected a request by investors to adopt even a bare-bones plan to address this problem. It's hard to see how can Pilgrim's take pride in that.

Pilgrim's Pride is owned by the Brazil-based meat conglomerate JBS, which controls a majority of shares voted today on Proposal 6. The water pollution footprint of Pilgrims Pride and JBS combined included more than 45 million tons of manure (in 2015) and 37 million pounds of toxic discharges to waterways (from 2010-2014).
Meanwhile, In Brooks County south of Quitman, Georgia, draining into Piscola Creek and the Withlacoochee River, in the same industrial park where WWALS caught Sabal Trail illegally burning, poultry breeder Aviagen will be setting up shop.
Aviagen is not a JBS company. Aviagen, although it gives a U.S. address in Huntsville, Alabama, has worldwide operations, and was bought in May 2003 by Boston-based private equity firm Advent International, which lists Aviagen confusingly as a UK Healthcare firm.
Or is it? Even though Advent still lists Aviagen as one of its holdings, The Poultry Site, 26 April 2005, Aviagen Becomes Part of the Erich Wesjohann Group,
ALABAMA — Aviagen International Group Inc. ("Aviagen"), the world's leading poultry meat science company, has been acquired by Erich Wesjohann GmbH & Co. KG (the "Erich Wesjohann Group"), the leader in poultry science for the egg layer industry. Each of these leaders represents important genetic knowledge and research resources in their respective fields of poultry science.

Following several years of investment in research and development plus geographic expansion, the global private equity company, Advent International, has made this expected transition. The Erich Wesjohann Group became a strategic partner in Aviagen in November 2003 through the sale Ross EPI to Aviagen. As part of this transaction, the Erich Wesjohann Group acquired a 21% shareholding in Aviagen with its founder and CEO, Erich Wesjohann, joining the Aviagen board.

…

Headquartered in Germany, the Erich Wesjohann Group with its subsidiaries Hy-Line International, Lohmann Tierzucht and H&N is the global market leader in the breeding of egg layer genetics.
Apparently more specifically PHW Group LOHMANN & CO. AG, Paul-Wesjohann-Str. 45, 49429 Visbek, Germany. Or maybe it's EW GROUP GmbH Hogenbögen 1, 49429 Visbek. Erich Wesjohann is apparently involved in at least two companies in Visbek that do things related to chicken breeding. Visbek is near Bremen in northwest Germany. Kind of far from Alabama.
Whoever owns Aviagen, we'll have to watch and see how healthy the effluents from Aviagen in Brooks County, Georgia are.
-jsq, John S. Quarterman, Suwannee RIVERKEEPER®
You can join this fun and work by becoming a WWALS member today!
Short Link: