Update 2018-04-23: More detail from cleanup leader Bobby McKenzie, a word from property owner Helen Tapp, about sponsors of the water trail, a press release, where WWALS was at three other events that same day, and how you can find upcoming WWALS outings and events.
Cleanup leader Bobby McKenzie reported from the Troupville cleanup this morning:
We had about 50 folks come out this morning. Thanks to the Boy Scouts Troop 429 and 454 as well as Girl Scout Troop 40267 for coming to help out. We also had a couple folks from Moody.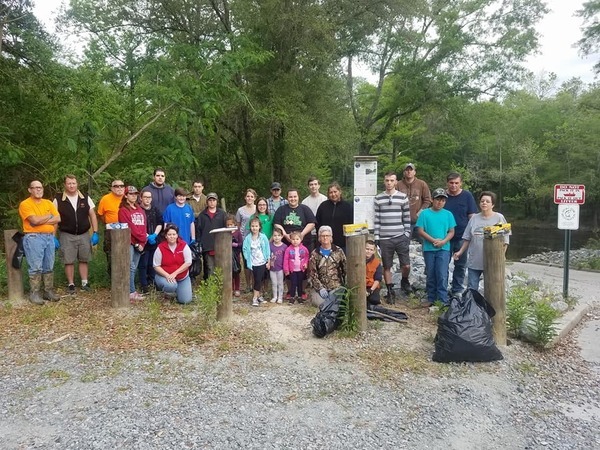 At Troupville Boat Ramp, by the signs for the Withlacoochee and Little River Water Trail (WLRWT) that Phil Hubbard planted yesterday.
We found everything from cans to tires to a large life size motorcycle sign to car bumpers to a boat….LOL!!
More detail from Bobby:
We met at the signs for safety/execution briefing. I was able to talk about the signs and water trail to 50 folks and when I asked who new about the Little and Withlacoochee Rivers and being able to kayak them, only 2 folks were aware. Now 50 more folks are aware…and half were kids…but some of the best kind of kids…Boy and Girl Scouts!


WWALS sign with safety points, at Troupville Boat Ramp, for the Withlacoochee and Little River Water Trail, planted by WWALS Outings Chair Phil Hubbard the previous day.

My count on the site was about 35 of the 30 Gal trash bags, 5 tires, a bumper from a Pontiac Bonneville and a life size motorcycle sign as the big ticket items and of course if VLPRA comes and oulls the boat out… there is that…The KLVB rep said they coordinated VLPRA to come get the boat.
Thanks to Aaron Strickland, Executive Director of Keep Lowndes-Valdosta Beautiful (KLVB) for sending us the scouts and students. KLVB also provided the trash bags for this cleanup, and has asked the Valdosta-Lowndes County Parks and Recreation Authority (VLRPA) to come get them.
Those are a couple of the reasons KLVB and VLRPA are listed as sponsors on the sign shown above. Maybe other organizations would like to become WLRWT sponsors to be associated with such cleanups and for recreation and to improve the health of our waterways and drinking water.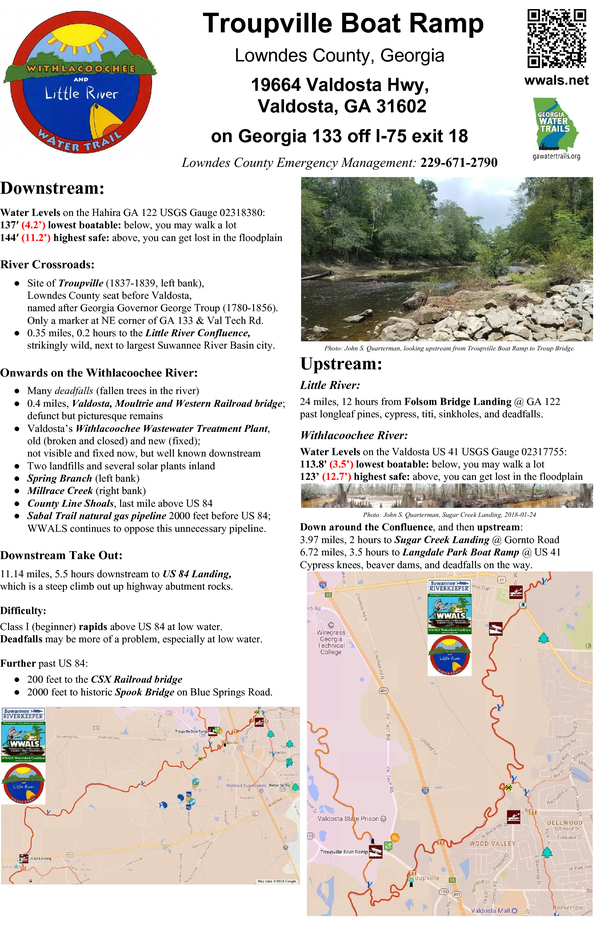 WWALS sign with upstream and downstream maps and text, at Troupville Boat Ramp, for the Withlacoochee and Little River Water Trail, planted by WWALS Outings Chair Phil Hubbard the previous day.
This cleanup is also part of Waterkeeper® Alliance Cleanup Week.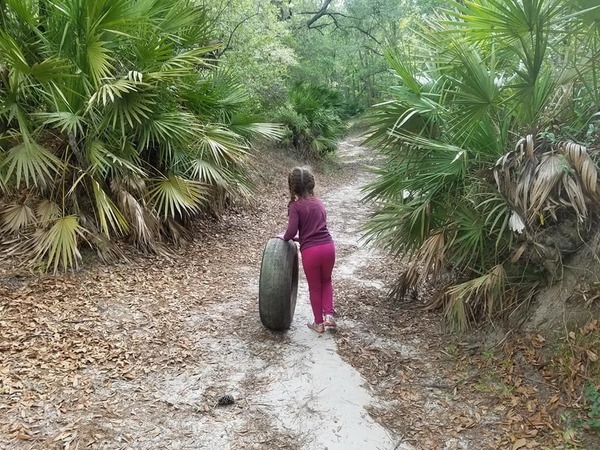 Thanks to Helen Tapp and her relatives for permission to clean up on the private land at the confluence of the Little River and the Withlacoochee.
Helen Tapp replies:
What a fabulous turn-out of Earth Day workers! Thank you so much for the clean-up and helping the Troupville site regain a little dignity.

Also, your efforts will help reduce the debris that gets in the rivers, and contributes to a healthier habitat for a variety of wildlife.

Cheers to all your hard work! Hope it was fun to be out on such a pretty day. Your efforts are very much appreciated.
Here are adults and children at the vehicle barriers on the path to the private land.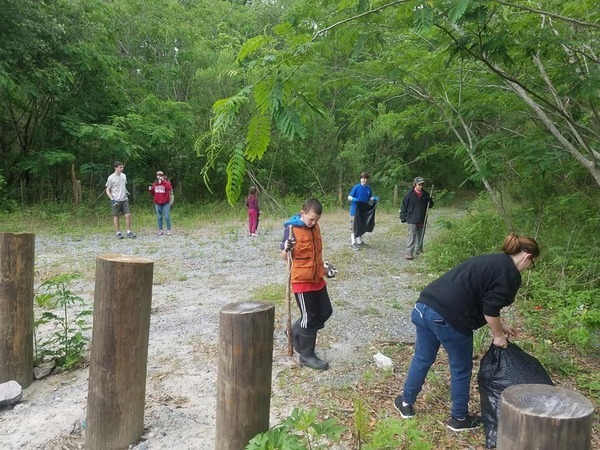 Thanks to Bobby McKenzie for handling this cleanup while WWALS was at three other events today, totaling three counties in two states:
Water quality testing training on the Suwannee River in Suwannee County, Florida
Wanee Festival at Spirit of the Suwannee Music Park, Suwannee County, Florida
A Day in the Woods at Gaskins Forest Education Center, near Alapaha, in Berrien County, Georgia
And this cleanup at the site of old Troupville, GA, west of Valdosta in Lowndes County, Georgia.
Finally, thanks to Lowndes County Public Works Director Robin Cumbus for agreeing for the county to come get trash we collect at river landings.
For more WWALS outings and events as they are posted, see the WWALS calendar or the WWALS outings and events web page. WWALS members also get an upcoming list in the Tannin Times newsletter.
-jsq, John S. Quarterman, Suwannee RIVERKEEPER®
You can join this fun and work by becoming a WWALS member today!
Short Link: