Venus gleamed through the fires of sunset as the full moon and Mars hid behind clouds.
The sound of frogs brought out swoops of bats, as a dozen or two paddlers braved the placid flat waters of Banks Lake Friday evening in the least strenuous yet one of the most enjoyable of all WWALS outings. As one new participant remarked, it's one thing to see it from the road, but out on the water the size, the lucidity, and the sunset are startling while calming.
Bret Wagenhorst, who brought a crew of new people from Tifton and paddled out with them first, reports: "Got to see: ospreys and nest, eastern kingbirds, egrets, ibises, bats, gators and hear pig frogs, cricket frogs, and mourning doves."
Thanks to Shirley Kokidko, pictured here with camera, for leading this expedition.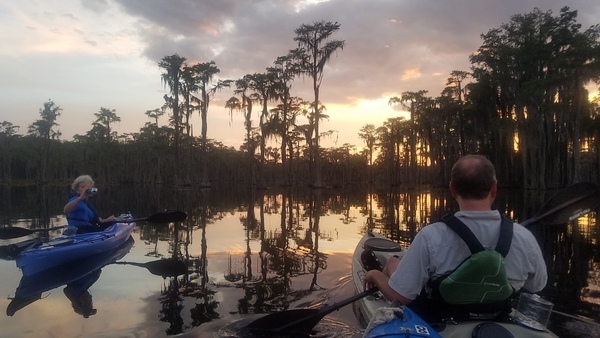 Thanks to a nearby hermit-no-longer-stranger, we even got a last-minute loaner kayak for a new paddler, who liked it so much she became a new member. One of quite a few new paddlers, at least two others in loaner boats, and one of four new WWALS members.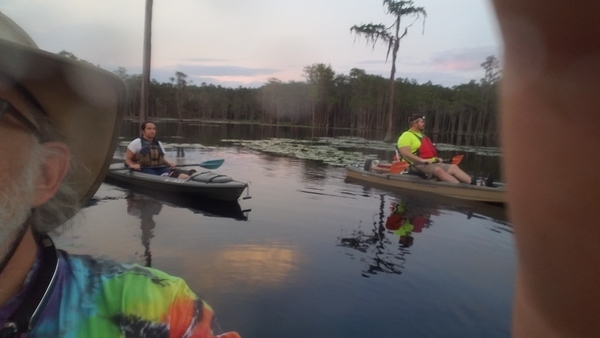 Last-minute loaner boat on left
The recent draining of Banks Lake did not get rid of all the weeds. At the boat ramp, seaweed-like strands draped off paddles and boats.
The full moon eventually did come out from behind the clouds; seen here from GA 122.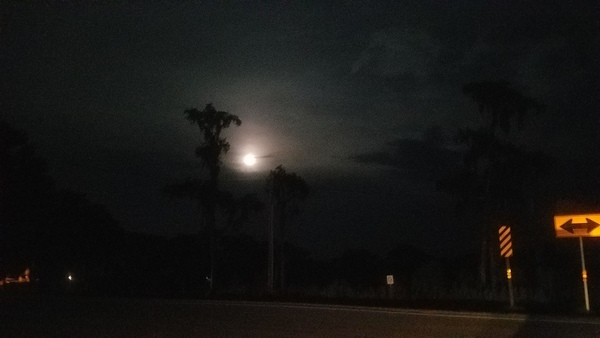 See more pictures on facebook by Shirley Kokidko and by Julie Bowland, who paddled enough later that she photographed and painted the moon in the cypress trees.
For more WWALS outings and events, see the WWALS calendar or the Outings and Events list. Next up: the Alapaha Quest continues, Saturday 11 August 2018, as we continue covering all parts of the 129-mile Alapaha River Water Trail (ARWT).
-jsq, John S. Quarterman, Suwannee RIVERKEEPER®
You can join this fun and work by becoming a WWALS member today!
Short Link: