The bigger they are, the harder they fall. Mosaic Co., market cap $11.5 billion, just lost to DeSoto County, Florida, annual budget $84.3 million. Maybe this will help Bradford County to do the right thing about phosphate mines.
Craig Pittman, Tampa Bay Times, 26 July 2018, Mosaic spent 20 years planning new phosphate mine. DeSoto County has rejected it,
Mosaic Co., the world's largest phosphate company, has spent two decades lining up a new mine in DeSoto County as part of a broader effort to move its operations south.


Photo: Jim Tatum on Southwings flight for WWALS, 2016-10-22: W across PCS Phosphate Mine, 30.4429360, -82.7851800

But DeSoto County commissioners last week slammed the door in the company's face, voting 4-1 against rezoning 18,000 acres from agricultural to mining.

A major concern: The impact of mining on one of the state's most pristine waterways, Horse Creek. The creek is a major tributary of the Peace River, which supplies water for three counties….

"After 16 years of activism I have never seen a victory that decisive," said [Dennis] Mader, president of People Protecting the Peace River. "Hopefully this will turn the tide on them."
The article notes that Florida phosphate mining actually started in what is now DeSoto County, but until recently Polk County was easier pickings.
But now that those mines are playing out, the company has spent the past 20 years working toward opening or expanding mines in Manatee, Hardee and DeSoto counties. The effort has required a lot of long-range planning by the company. For instance, it applied for a state permit for the DeSoto mine in 2014, winning approval from the Department of Environmental Protection in 2017.
That last sounds a lot like what Dennis J. Price, Practicing Geologist of Hamilton County, predicts Nutrien (PCS) is planning for expanding into Columbia County.
And of course there's the HPS II mine proposal in Union and Bradford Counties. Union BOCC voted against it and changed their Comprehensive Plan and codes to make mining much more difficult, but Bradford County has hired a consultant to examine the proposed mining permit.
Opponents of Mosaic's DeSoto mine plans were particularly concerned about its impact on their drinking water. The mine would be adjacent to Horse Creek, which provides 15 percent of the freshwater flow to the Peace River.

The Peace River-Manasota Regional Water Supply Authority provides more than 28 million gallons of water a day to customers in Sarasota, Charlotte and DeSoto counties.

The creek is so pure that a water authority official once observed that the Peace River's purity is "barely acceptable for water supply purposes … until the waters of Horse Creek enter it."
Everyone should be as concerned about the New River between Union and Bradford, the Santa Fe River it flows into, Falling Creek and Deep Creek in Columbia County, the Ichetucknee River whose source springshed starts at Falling Creek, and of course the Suwannee River.
The Tampa Bay Times article reminds us another county has denied Mosaic, and then ran into difficulties:
In 2008, Manatee commissioners voted 4-3 to reject Mosaic's application to expand its Four Corners Mine to a 2,048-acre site commonly called the Altman Tract. Mosaic filed a $617.8 million suit against the county. A year later — after an election that changed the composition of the commission — the county reversed its denial.

Mosaic filed that lawsuit under the state's Bert Harris Act. The law, passed in 1995, says local governments cannot place such an "undue burden" on what a landowner can do with his or her land that it prevents them from using it for a profit — regardless of the impact on neighbors or those who live and work downstream.
Yet that Bert Harris Act of 1995 has clauses Union County seems to know about, such as in 70.51(a):
"Development order" means any order, or notice of proposed state or regional governmental agency action, which is or will have the effect of granting, denying, or granting with conditions an application for a development permit, and includes the rezoning of a specific parcel. Actions by the state or a local government on comprehensive plan amendments are not development orders.
And 70.20(8):
Nothing in this section shall prevent a municipality, county, or other governmental entity from acquiring a lawfully erected sign through eminent domain or from prospectively regulating the placement, size, height, or other aspects of new signs within such entity's jurisdiction, including the prohibition of new signs, unless otherwise authorized pursuant to this section. Nothing in this section shall impair any ordinance or provision of any ordinance not inconsistent with this section, including a provision that creates a ban or partial ban on new signs, nor shall this section create any new rights for any party other than the owner of a sign, the owner of the land upon which it is located, or a municipality, county, or other governmental entity as expressed in this section.
I am not an attorney, but Alachua County and Union County have attorneys who have assisted in changes to Union County's Comprehensive Plan in ways that presumably are consistent with the Bert Harris Act.
Seems like more than just Union County might find it prudent to modify their Comprehensive Plans. Hamilton County recently approved with conditions Nutrien's five-year permit renewal, but expansion into new areas would be different. Columbia County would appear to have a clean slate to work with. Other counties, especially downstream such as Gilchrist, maybe should think about this, as well.
Even attorneys Hopping Green & Sams note in THE BERT J. HARRIS, JR., PRIVATE PROPERTY RIGHTS PROTECTION ACT: Florida's Landmark Property Rights Legislation; A Primer for Private Landowners that:
Q. So does that mean any action that diminishes my property values?

A. The law applies to "a specific action" by a government agency which affects real property. That includes a variety of actions like decisions on permit applications and land use approvals. It does not include a governmental decision that abates or prohibits a public nuisance at common law or any "noxious uses" of private property. This allows government entities to continue to prohibit unreasonable actions and uses of property that injure the public.
Damaging drinking water or fishable rivers would seem to be noxious uses that injure the public.
And while WWALS as an IRS 501(c)(3) cannot support or oppose any particular candidate for office, we can point out that phosphate mines should be an issue in elections in counties that might get them, and in statewide elections. Unless you want your creeks to end up like this: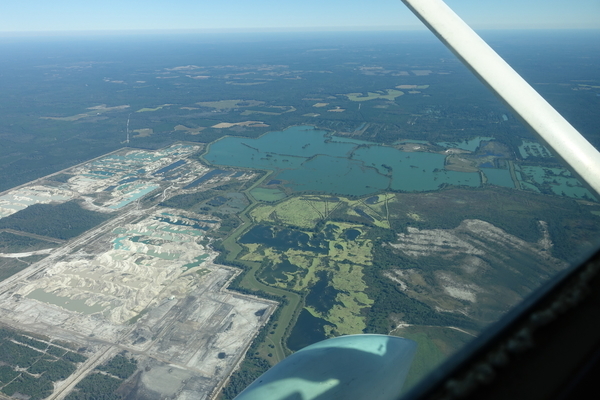 Photo: Jim Tatum on Southwings flight for WWALS, 2016-10-22: ENE across Hogans Branch, Hunter Creek, 30.4785260, -82.7345540
For a quick primer on this phosphate mine issue, see A Resolution Against Phosphate Mines in Florida by several Waterkeepers across Florida.
-jsq, John S. Quarterman, Suwannee RIVERKEEPER®
You can join this fun and work by becoming a WWALS member today!
-jsq
Short Link: