About thirty paddlers made it upstream to Stone Bridge and back, although few people could paddle up the current under it.

Photo: Helen Chaney, Suwannee Riverkeeper under Stone Bridge
Starting out at Cook County Boat Ramp, there was plenty of room for everybody to stay six feet apart on land and ten feet apart on water.

Russell Allen McBride recognizing Frank Gay, 10:08:19
Russell Allen McBride on the left is looking at the bigger boat, about which he wrote: "As our group left the ramp I look up and there is a guy that most in Quitman and Valdosta know. Frank Gay. I remember listening to him sing country when I was a teen. What a small world."
He should send a song for the Suwannee Riverkeeper Songwriting Contest.
Shelby Miller is foreground right, and that's my kayak on the left.
We don't know whether this is a creek or a slough.
Look at that oak-colored water!
Boats with blue sky and green trees reflected on the river.
Around the bend there was…

Near and far paddlers, 10:27:27
This photogenic tree and beach.

Near and far paddlers, 10:27:27
From the middle of the pack you can see many more boats behind.
It was not a long paddle, but it was a fun one.
Everybody's favorite tree was just before…

Everybody's favorite tree, Stone Bridge visible upstream 10:36:06
Our destination, Stone Bridge, built in 1925 by Luten Bridge Co. of York, PA and Knoxville, TN. It's actually built out of concrete. It's 450 feet long, with the longest arch being 45 feet. A 1932 Cook County highway map shows GA 76 going over the Little River here.

Cook County highway map, State Highway Board of Georgia, 1932. Source: County Maps, Surveyor General, RG 3-9-66, Georgia Archives.
A 1970 map shows GA 76 moved to its current location downstream.

Cook County, 1970, in Cook County Historic Maps, Historical Atlas of Georgia Counties, GeorgiaInfo. Source: U.S. Geological Survey Georgia Base Map with Roads and Contours, 1970.
So Stone Bridge went out of service some time between 1932 and 1970.

You try paddling up that, 10:40:42
Paddling up under the bridge looks easy, but it was not. I was not among the three or so who managed it.
We did clamber up below the bridge to get a picture of banners.
On the left side there was this convenient slough.
So we got a banner picture there, too. WWALS Outings Chair Bobby McKenzie is holding one end and the sweep for this outing, Russell Allen McBride is holding the other end.

Banners: Russell Allen McBride, ?, Bobby McKenzie, 11:08:40
Bobby told me the bridge was impassible on top, so I had to go see.
Well, nobody is going to drive on it.
But animals use it to cross the river, leaving a trail that is quite passable.
There's so much growth by the bridge it's hard to see the river below.
But I think that is Becky Garber.

Is that Becky Garber? 11:23:53
There she goes.
Here you can see both the yellow (shallow) slough on the left and the main red (deeper) channel on the right.
Bungeed one end to a vine, and held the other.

Photo: Russell Allen McBride, WWALS and Suwannee Riverkeeper banners on Stone Bridge.
The bridge has not been used in so long this pine tree grew up in the middle of it and died already.

Pine tree in center of bridge, 11:26:01
Russell and I decided to go on up to the railroad bridge.

RR bridge through driftwood, 11:45:54
We found three more paddlers.

Three boaters near bridge, 11:50:14
It makes quite a picture, the Live Oak, Perry & South Georgia Railroad (LOPSG RR) bridge over the Little River. It is currently owned by Georgia & Florida Railway.
Don't know what the rope was for.

McBride, Fountain, rope, RR bridge, 11:47:29
I held banners off Stone Bridge, so Russell got to do that on the RR bridge.

Russell heading uphill, 11:49:15
He was smart enough not to go this far out on it.
He did display the Suwannee Riverkeeper banner.

Suwannee Riverkeeper banner, 11:52:04
And the WWALS banner.
One more bridge and Little River picture.

Little River and RR bridge, 11:53:52
Paddling downstream was easier than upstream.

Russell after Stone Bridge, 12:07:21
These rocks would be an issue if the water was a little lower.
Back to where we started, Rock Bridge (GA 76).
And taking out at Cook County Boat Ramp.
I took a water sample afterwards and tested it for E. coli bacteria. It came out clean.
And we've now listed Cook County Boat Ramp on Swim Guide.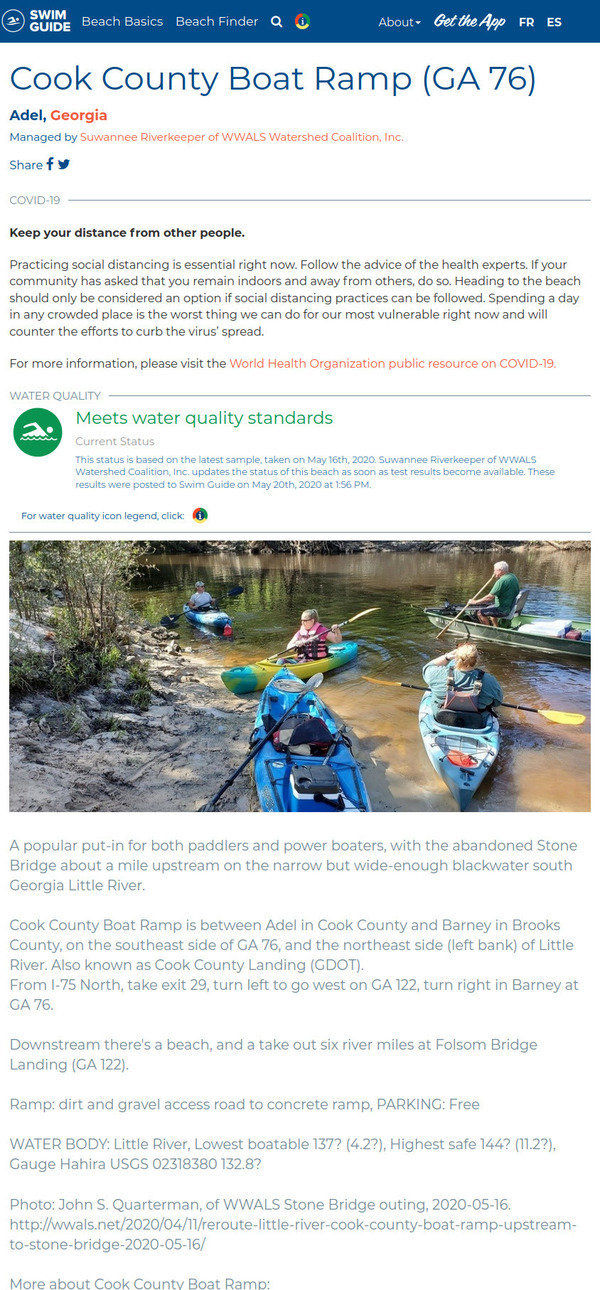 Swim Guide: Cook County Boat Ramp (GA 76)
There are more pictures by John S. Quarterman on the WWALS website.
More pictures on facebook by:
For more WWALS outings and events as they are posted, see the WWALS calendar or the WWALS outings and events web page. WWALS members also get an upcoming list in the Tannin Times newsletter.
-jsq, John S. Quarterman, Suwannee RIVERKEEPER®
You can join this fun and work by becoming a WWALS member today!
Short Link: