Update 2020-05-26: Pictures: Stone Bridge paddle from Cook County Boat Ramp (GA 76) 2020-05-16.
Update 2020-05-21: Three Little River Landings in Swim Guide 2020-05-21
Update 2020-05-20: Clean weekend 2020-05-17.
Changed to put in at Cook County Boat Ramp on GA 76 and paddle upstream past Stone Bridge, and then back. This avoids the outings problem during the stay-home period of the novel coronavirus pandemic: no shuttle, so no crowding together. Yes, boating is not just permitted, it is encouraged by the state of Georgia; see Florida and Georgia Boat Ramps Status 2020-04-09. To keep it that way, everyone please remember to stay 6 feet apart on land and 10 feet apart on the water.
This is a leisurely paddle on a very seldom-paddled stretch of wild south Georgia blackwater river, the Little River, between Adel and Barney.
When: Gather 9:30 AM, launch 10 AM, Saturday, May 16, 2020
Put In: Cook County Boat Ramp, Mile 31.41. 966 Quitman Highway (GA 76), Adel, GA 31620, in Cook County.
Between Adel and Barney, southeast side of GA 76, northeast side (left bank) of Little River, gravel ramp. Also known as Cook County Landing (GDOT). Left or right bank means when facing downstream.
Landmark 1: Stone Bridge, 31.04962, -83.49932, Mile 32.36, about a mile upstream from Cook County Boat Ramp.
Take Out: Same as Put In.
Bring: the usual personal flotation device, boat paddles, food, drinking water, warm clothes, and first aid kit. Also trash pickers and trash bags: every WWALS outing is also a cleanup. These days, a facemask would not be amiss.
Free: This outing is free to WWALS members, and $10 (ten dollars) for non-members. We recommend you support the work of WWALS by becoming a WWALS member today!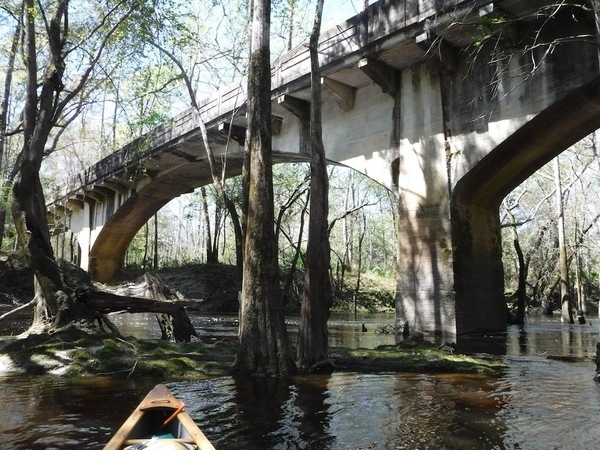 Photo: Burt Kornegay, March 2018, of Stone Bridge over Little River, SW of Adel, GA.
More about Stone Bridge, including more pictures: Stone Bridge, Little River, by Dan Phillips 2016-08-01.
Duration: 2 hours (depending on how far upstream we go)
Shuttle: None, so no crowding together.
Landmark 2: Continue reading →