Update 2016-11-29: Added to this google map: WWALS aerials of Gilchrist County, and Sabal Trail alignment maps localized by LAKE for Mitchell, Colquitt, Brooks, and Lowndes Counties, Georgia, and Hamilton, Suwannee, and Gilchrist Counties, Florida to just north of Bell, FL.
Update 2016-11-04: Now with Sabal Trail route digitized through Gilchrist, Alachua, and part of Levy Counties, plus part of the Citrus County line.
Signs, silt fences, backhoes in wetlands: you can log pictures on a map of anything going on at a Sabal Trail construction site from your mobile phone, tablet, or laptop. Already posted your pictures on the web? Link them into the map. Here's how.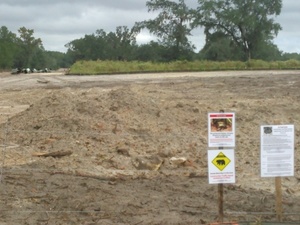 You've seen many pictures posted by WWALS, taken on the ground and in the air, and linked into a google map (which also has Sabal Trail's alignment maps linked in).
Here's another google map, to which more people can add pictures.
If you want to add pictures to this new crowdsourcing google map, you need to: Continue reading →