Update April 2, 2018: Submissions are now open with entry form!
Come on down to Cedar Key in June for the First Annual Suwannee Riverkeeper Songwriting Contest! Submissions open Monday April 2, 2018.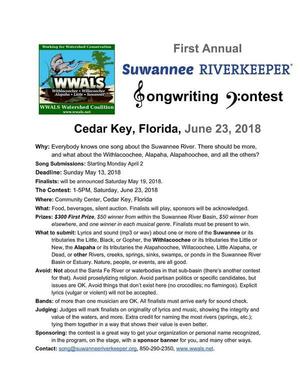 Here is a printable PDF flyer.
Why: Everybody knows one song about the Suwannee River. There should be more, and what about the Withlacoochee, Alapaha, Alapahoochee, and all the others?
Song Submissions: Starting Monday April 2
Deadline: Sunday May 13, 2018
Finalists: will be announced
Saturday May 19, 2018.
The Contest: 1-5PM, Saturday, June 23, 2018
Where: Community Center, 809 6th Street, Cedar Key, Florida
What: Food, beverages, silent auction. Finalists will play, sponsors will be acknowledged.
Prizes: $300 First Prize, $50 winner from within the Suwannee River Basin, $50 winner from elsewhere, and one winner in each musical genre. Finalists must be present to win.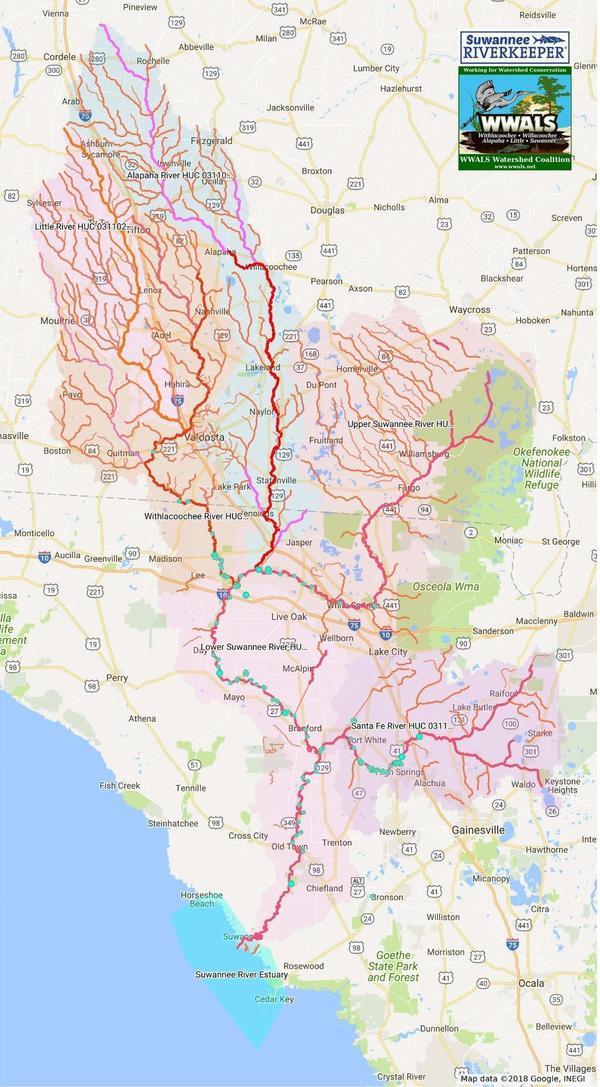 Stay: The Chamber lists a wide variety of "vacation rental cottages and homes, condominiums and apartments, hotel rooms, bed and breakfasts, motels, and of course campgrounds which accommodate tent or RV camping," but they are few, and they sell out fast, so make reservations early.
What to submit: Lyrics and sound (mp3 or wav) about one or more of the Suwannee or its tributaries the Little, Black, or Gopher, the Withlacoochee or its tributaries the Little or New, the Alapaha or its tributaries the Alapahoochee, Willacoochee, Little Alapaha, or Dead, or other Rivers, creeks, springs, sinks, swamps, or ponds in the Suwannee River Basin or Estuary. Nature, people, or events, are all good.
Avoid: Not about the Santa Fe River or waterbodies in that sub-basin (there's another contest for that). Avoid proselytizing religion. Avoid partisan politics or specific candidates, but issues are OK. Avoid things that don't exist here (no crocodiles; no flamingos). Explicit lyrics (vulgar or violent) will not be accepted.
Bands: of more than one musician are OK. All finalists must arrive early for sound check.
Judges: will mark finalists on originality of lyrics and music, showing the integrity and value of the waters, and more. Extra credit for naming the most rivers (springs, etc.); tying them together in a way that shows their value is even better.
Sponsoring: the contest is a great way to get your organization or personal name recognized, in the program, on the stage, with a sponsor banner for you, and many other ways.
Update April 2, 2018: Sponsor Opportunities Form.
Update April 3, 2018: Draft sponsor banners (and PDF of banners):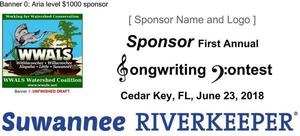 Aria level sponsor ,000, Sponsor Banners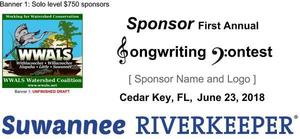 Solo level sponsor , Sponsor Banners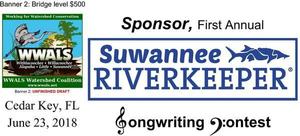 Bridge level sponsor , Sponsor Banners


Chorus level sponsor , Sponsor Banners

Contact: song@suwanneeriverkeeper.org, 850-290-2350, wwals.net/category/songwriting/
-jsq, John S. Quarterman, Suwannee RIVERKEEPER®
You can join this fun and work by becoming a WWALS member today!
Short Link: