Update 2018-03-14: Printable flyer for registration, attracting sponsors, and information.
Will Dwight Griner win like the last five years? Come see if you can beat him for the cash prize. If not, you may still win a medal in any of a dozen categories. And it's a nice spring paddle anyway!
With the silent auction again afterwards: it's the fifth annual BIG Little River Paddle Race, a fundraiser for WWALS and Friends of Reed Bingham (FORB). Last year we had 54 paddlers, 31 men and boys, 23 women and girls, from eight Georgia counties. That was more than the previous year's 34 paddlers. Floridians, come on up and help us set another record for entrants! Georgians, there's plenty of room on the Little River for more paddlers!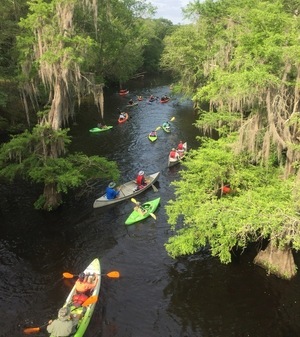 Where: Red Roberts Landing
31°11'32.0″N 83°31'13.2″W
Rountree Bridge Road
Between Moultrie and Adel, GA
I-75 Exit 41 (at Sparks) to Rountree Bridge Road
When: 8AM-9AM On-site Registration
9:30 AM Mass Start
Saturday, April 28, 2018
What: Canoes or Kayaks Only
Life jackets required of all participants.
Let people know: facebook event or the meetup.
But remember to register.
Registration: Register on-line Continue reading →