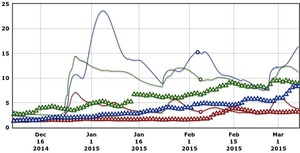 Rainfall can be quite different in Statenville on the Alapaha River as shown here than in Valdosta on the Withlacoochee River. But remember half of Valdosta drains into the Alapaha River watershed.
Here are rainfall and water level graphs from the three USGS Alapaha River gauges in Georgia. The Florida gauge is shown separately, because it use a different base level, and precipitation doesn't seem to be available from Florida gauges. See also always-current graphs of all the levels.
And here are similar graphs for seven days:
The highest rainfall was far upstream at Irwinville, but the biggest Alapaha River rise in Georgia was at Statenville, presumably because of creeks coming in from westwards towards Valdosta, which did have unusually high rain during this period. And look downstream into Florida: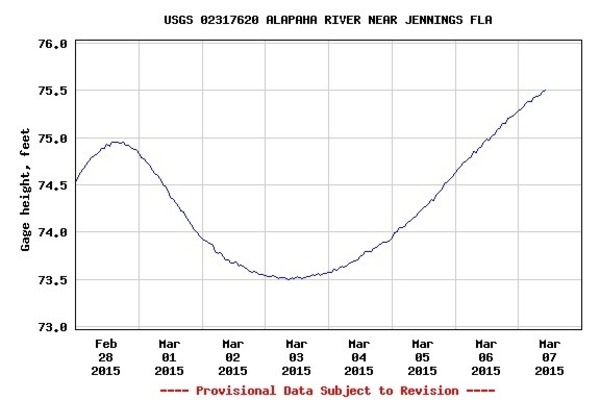 The Jennings gauge is just below where the Alapahoochee River joins the Alapaha. And Knights Creek and Dukes Bay Canal in Valdosta flow into Mud Swamp Creek, which flows into the Alapahoochee, which flows into the Alapaha, and on into the Suwannee River. Valdosta assures us that their three February wastewater spills into those creeks didn't go past Mud Creek. Those times. What about with even more rain with the ground already saturated, as in Thursday's Spring Flood Potential Outlook by the National Weather Service?
-jsq
Short Link: