A major sinkhole developed today within about 2000 feet of Sabal Trail's path in Osceola County, Florida. Rather like what we warned them about last year in WWALS v Sabal Trail & FDEP.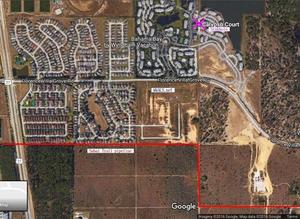 Caitlin Doornbos, Orlando Sentinel, 9 Dec 2016, Sinkhole displaces residents of condo complex west of Disney World,
Multiple families were displaced after a sinkhole developed in a gated condominium complex west of Disney's Animal Kingdom on Friday, Osceola County officials said.

The sinkhole was first reported in the 9100 block of Calypso Court about 8 a.m. and appeared to be "about the size of two cars," said Lt. Ryan Berry of the Osceola County Sheriff's Office. The sinkhole started opening behind a building near a retention pond.
That's in Davenport, Osceola County, Florida, about here: 28.324720, -81.656906.

Courtesy Lowndes Area Knowledge Exchange (LAKE), Sabal Trail map Spread 6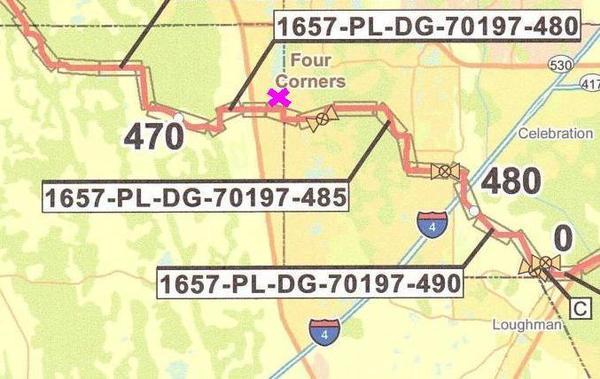 The purple X marks the sinkhole.

Courtesy Lowndes Area Knowledge Exchange (LAKE), Sabal Trail alignment map 1657-PL-DG-70197-482, STA. 24954+00 TO STA. 25007+00, 24997+23 CL FUTURE ROAD, FUTURE ROAD, POLK & OSCEOLA COUNTIES, FLORIDA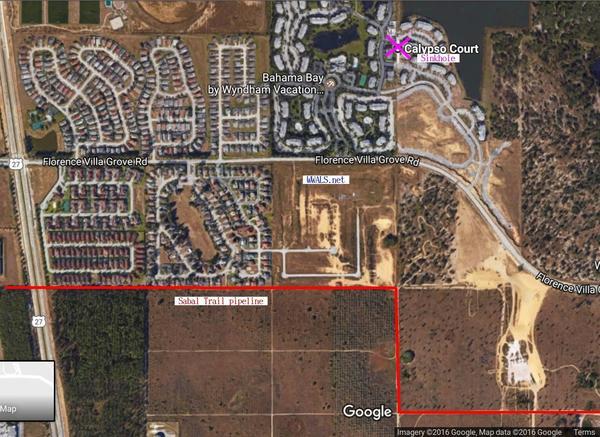 Photo: Fox35, 9 Dec 2016, Disney World-area condo units evacuated due to possible sinkhole.
Here are some things you can do to stop this unnecessary, destructive, and hazardous Sabal Trail fracked methane pipeline boondoggle.
-jsq
You can join this fun and work by becoming a WWALS member today!
Short Link: