Op-ed Tallahassee Democrat, today, Sunday 29 January 2017:
Floridians are withdrawing money from banks backing the Sabal "Sinkhole" Trail pipeline, and demonstrating daily from Miami to Jacksonville and Tallahassee, sometimes physically blocking pipeline destruction. Fossil fuel profits do not justify eminent domain takings of local lands nor any risk to our waters. Solar power is cheaper, faster, and far safer.
Image: Electric power generation employment by technology, U.S. Department of Energy
The solar industry provides more jobs than coal, oil, and natural gas combined. Sabal Trail's own figures show solar panels on half their pipeline's acreage could produce just as much electricity.
Pipeline studies have shown negative economic effects: reduced property values, lower tax bases, difficulties selling property near pipeline easements, and the economic stigma of a pipeline corridor.
Spectra Energy's Andrea Grover, in a Jan. 3 My View, said "Current natural gas pipeline infrastructure in Florida isn't adequate to meet increased demand for natural gas. This is why Florida Power & Light (FPL) and Duke Energy back the Sabal Trail pipeline."
That's what FPL claimed in 2013, but FPL's 2016 Ten-Year Plan admits Florida needs no new electricity until 2024.
Is Sabal Trail really about liquid natural gas (LNG) export, including truck and rail transport to Jacksonville and Miami? Do higher export prices through bomb trains justify hundreds of eminent domain seizures in Florida, Georgia, and Alabama?
The Florida Department of Environmental Protection (FDEP) testified in WWALS vs. Sabal Trail & FDEP (October 2015) that:
"…the Suwannee River crossing doesn't, in fact, have any impacts to an [O]utstanding Florida Water…."

Photo: John S. Quarterman, Southwings flight for WWALS, above Suwannee River Sabal Trail HDD, 23 November 2016
Flying over similar karst terrain, I saw a frac-out of drilling mud from Sabal Trail's pilot hole into the Withlacoochee River in Georgia, and a sinkhole.

Photo: Front page, Valdosta Daily Times, 18 November 2016, Withlacoochee River, north of US 84 bridge,
A day after Sabal Trail denied that sinkhole, it "discovered" a sinkhole at apparently the same spot.
Ms. Grover wrote to WTLV's Anne Schindler (December 5, 2016):
"The two items you referenced are unrelated. The sinkhole is in an upland and approximately 1,400 feet from the previously reported inadvertent release."
Sabal Trail caused those two items. FDEP fails to protect Outstanding Florida Waters, after sinkholes near the Santa Fe River and in public roads, and another frac-out under the Withlacoochee (south) River.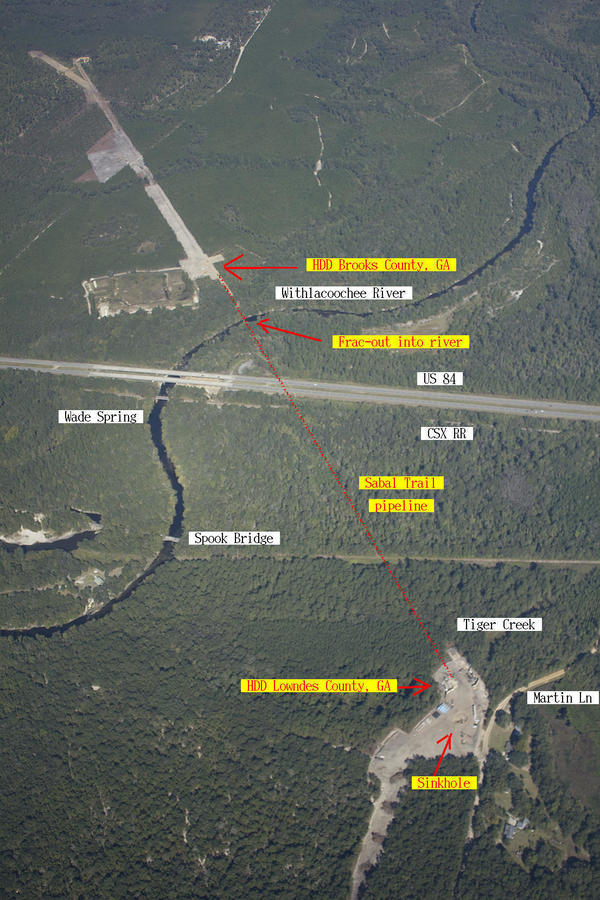 Photo: Sabal Trail Withlacoochee HDD site, Brooks and Lowndes Counties Georgia, by Dominick Gheesling, Southwings flight for WWALS, 22 October 2016
Dunnellon High School and Seven Rivers Hospital, within one mile of Sabal Trail and a planned LNG export facility, should know Spectra's history of corrosion, leaks and explosions.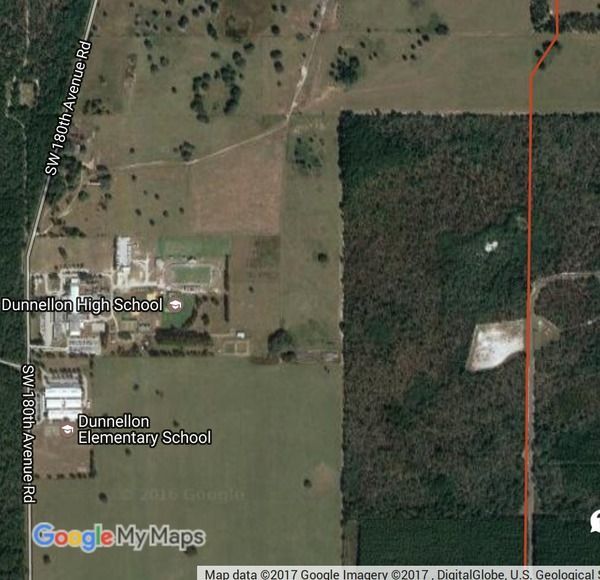 Image: Sabal Trail path (red line) digitized by WWALS on Google map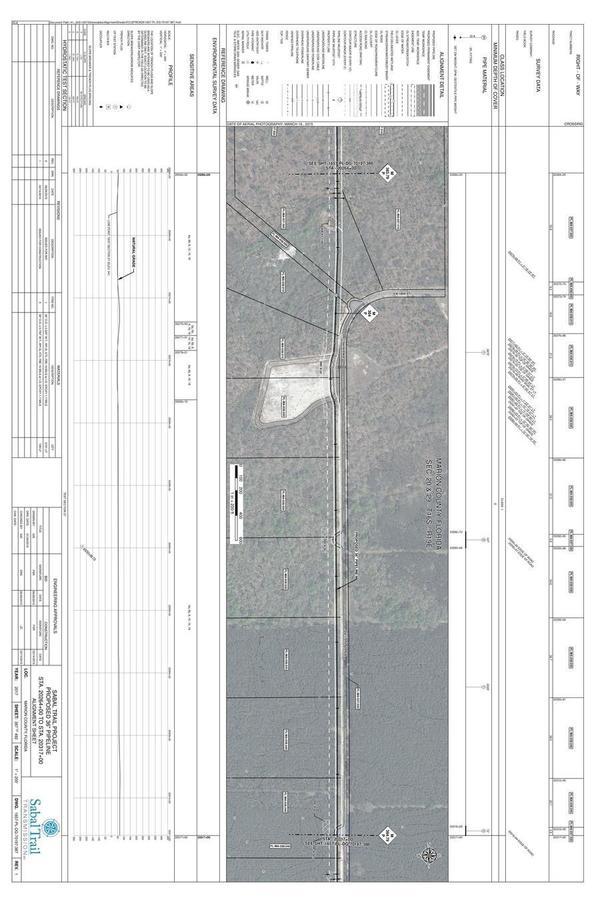 Image: Sabal Trail alignment map 1657-PL-DG-70197-387 courtesy of Lowndes Area Knowledge Exchange (LAKE)
David Mica told the Democrat (December 24, 2016): "…pipeline companies often hold local meetings along the proposed route to adjust for concerns expressed by local citizens. Sabal Trail conducted 50 of these meetings during the routing and permitting process."
A process run by the Federal Energy Regulatory Commission (FERC), funded by the industries it "regulates,", has only denied one pipeline in thirty years.
Citizens in that process called it a "farce," a "hoax," "wrong," and "insanity."
Floridians defeated the utility-funded anti-solar Amendment 1. Solar deployments were second only to natural gas in the U.S. in 2016 without eminent domain, sinkholes, leaks, or explosions.
All Sabal Trail permits should be revoked. Investors should divest from Sabal Trail, and invest in solar power.
John S. Quarterman is the Suwannee RIVERKEEPER®, who as President of WWALS Watershed Coalition, Inc. has been fighting the Sabal Trail pipeline since 2013 in Florida and Georgia.
---
I added links to evidence and some illustrations. As usual with these op-eds, the team of WWALS members who helped write it prefer to remain anonymous.
-jsq, John S. Quarterman, Suwannee RIVERKEEPER®
You can join this fun and work by becoming a WWALS member today!
Short Link: