Update 2023-06-24: Work in progress at Lakeland Boat Ramp 2023-06-20.
A good trip for experienced adult paddlers: deadfalls to paddle around or climb over, the famous rapids, The Rocks, plenty of sandy beaches for lunching or swimming beside, a mysterious platform that may be the remains of a very narrow bridge, all in a fine summer day on the Alapaha River, July 11, 2015.

Collage, Lakeland to Naylor 08:30:00, 31.0458222, -83.0433889
It took us seven hours to paddle the fourteen river miles from Lakeland Boat Ramp, on GA 122 east of Lakeland, to Hotchkiss Road Landing. We were all experienced paddlers with plenty of supplies, especially water.
If you are a family with small children, please do not try this: it's too far. There have been cases of such families calling 911 and having to be rescued.
A much more reasonable family paddle is Lakeland to Burnt Church Landing. That's about two miles, and can be done in an hour. Or make it a leisurely paddle and still it should be doable.
FYI, Paffords Landing, just downstream from Lakeland Boat Ramp, is closed for the forseeable future. This is because too many people left trash and shot up things.
All these distances are in the WWALS web page for the Alapaha River Water Trail Access Points.
The water level on July 11, 2015, was about 2 feet (78.1′ NAVD88) on the Statenville Gauge. That is also our lowest level recommendation for our starting point, The entire trip was in Lanier County, Georgia.
We previously published some of Gretchen Quarterman's pictures. But she had more, using both her iphone and a camera, plus I had some. So here is a selection combined. Yes, a selection, even though there are 212 pictures below. Click on any small picture to see a larger version.
There are also some videos, which will follow.
For more WWALS outings and events, see:
https://wwals.net/outings/
-jsq, John S. Quarterman, Suwannee RIVERKEEPER®
You can help with clean, swimmable, fishable, drinkable, water in the 10,000-square-mile Suwannee River Basin in Florida and Georgia by becoming a WWALS member today!
https://wwals.net/donations/

Chris Graham, Bret Wagenhorst's guest, Deanna Mericle, at Lakeland Boat Ramp, –GQ C2 08:38:13, 31.0458222, -83.0433889

Phaeotremella foliacea, a fungus parasitic on the mycelium of Stereum sanguinolentum, a fungus that grows on dead attached and recently fallen branches of conifers, –GQ C2 08:34:10, 31.0448944, -83.0448611

Sofa, –GQ C2 08:46:03, 31.0421528, -83.0446083

Upstream, South access, Paffords Landing, –GQ C2 08:48:28, 31.0421528, -83.0446083

Posted, No Trespassing, Pinecrest Wildlife Management, No Hunting, –GQ C2 08:48:51, 31.0420889, -83.0446778

Palmettos, Paffords Landing, –GQ C2 08:50:16, 31.0424944, -83.0438472

Tire, Paffords Landing, –GQ C2 08:53:33, 31.0434222, -83.0432500

Embarking, Lakeland Boat Ramp, –GQ C2 09:05:24, 31.0458861, -83.0436083

Hats on, –GQ C2 09:05:42, 31.0458917, -83.0435556

Bret Wagenhorst and guest, –GQ C2 09:08:07, 31.0458806, -83.0435722

Many roots, –GQ C2 09:11:26, 31.0495778, -83.0431278

Just below Lakeland Boat Ramp, –jsq 09:11:04

Shirley Kokidko and the flotilla –GQ C1, 08:22:58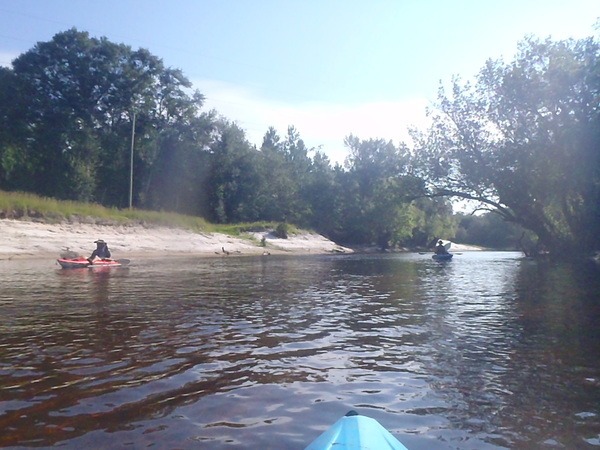 Two boats at Lakeland-Waycross Power Line –GQ C1, 08:39:19, 31.0401320, -83.0460730

Lakeland-Waycross Power Line, –jsq 09:22:57, 31.0401320, -83.0460730

Deadfall on right bank, –jsq 09:36:16, 31.0349178, -83.0490417

Gretchen Quarterman at eroded sand, –jsq 09:39:07, 31.0320000, -83.0485000

Wrested vegetation, –jsq 09:41:59, 31.0291138, -83.0475540

Caught a fish, –jsq 09:45:06, 31.0291138, -83.0475540

Impressive trees, –GQ C2 09:49:05, 31.0261528, -83.0471417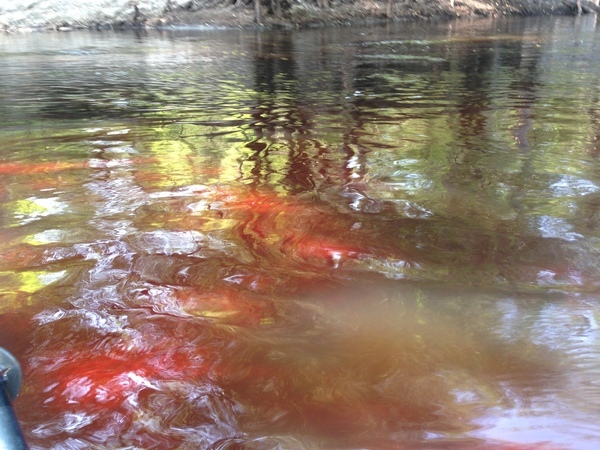 Red swirls, –GQ C2 09:49:18, 31.0260722, -83.0471417

A seep from the riverbank, –GQ C2 09:54:46, 31.0247194, -83.0474472

Privet?, –GQ C2, 10:03:44, 31.0229500, -83.0729444

Beach and deadfalls –GQ C1, 08:42:18

Around right bank beach –GQ C1, 08:45:01

Tree with exposed roots –GQ C1, 08:45:11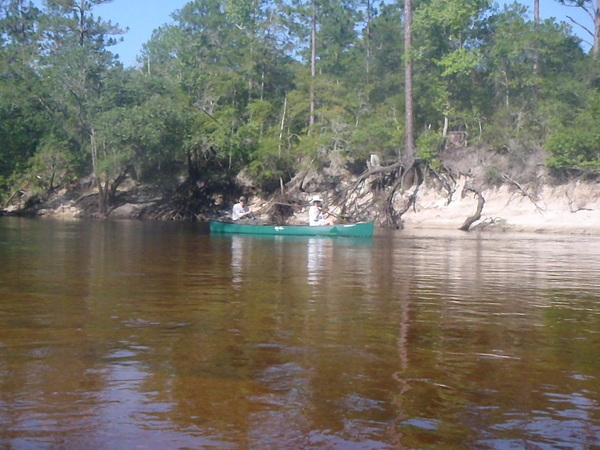 Bret Wagenhorst and guest –GQ C1, 08:47:33

Beach with tree –GQ C1, 08:48:12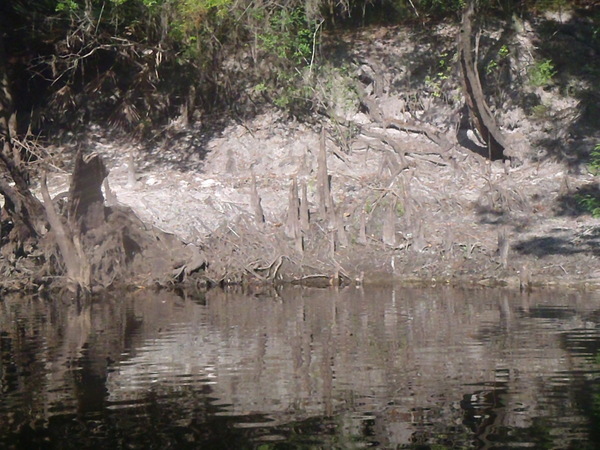 Cypress knees –GQ C1, 08:49:56

Eroded sand –GQ C1, 08:53:52, 31.0349178, -83.0490417

Footprints in sand –GQ C1, 08:55:08

Imposing tree –GQ C1, 09:04:24

Idyllic river –GQ C1, 09:04:41

Four paddlers –GQ C1, 09:17:21

Five paddlers –GQ C1, 09:18:03

Deadfalls on right bank –GQ C1, 09:28:03

Bend to the left –GQ C1, 09:29:00

Undercut left bank –GQ C1, 09:44:29, 31.0218258, -83.0336533

Pogo's nose, right bank, with five paddlers –GQ C1, 09:45:07, 31.0218258, -83.0336533

Deadfall across river –GQ C1, 09:55:13

Dragonfly, –jsq 10:14:24, 31.0212669, -83.0412445

Undercut bank, –jsq 10:28:30, 31.0218258, -83.0336533

Deadfall across river, –jsq 10:41:19, 31.0188293, -83.0349274

Bird Tracks, –jsq 10:53:50, 31.0171413, -83.0324783

Deadfall on left bank, –jsq 11:07:51, 31.0171413, -83.0324783

Climb over deadfall, –GQ C2, 11:16:02, 31.0150194, -83.0341111

Happy paddler, –jsq 11:25:05, 31.0148659, -83.0340423

Eroded bluff, –GQ C2, 11:44:06, 31.0097306, -83.0307694

Sand bank, –jsq 11:44:58, 31.0099087, -83.0301666

Lunch beach, –GQ C2 12:16:48, 31.0084278, -83.0229639

Lunching, –jsq 12:25:52, 31.0098743, -83.0301590

Chris and Deanna Mericle, jsq, Mike Sims Jr., Chris Graham, Shirley Kokido, WWALS banner, –GQ C2 12:43:10, 31.0083000, -83.0231028

Owl, –GQ C2 12:49:25, 31.0074889, -83.0226583

Fish beds, –jsq 12:57:20, 31.0059757, -83.0218811

Portrait platform, left bank, –GQ C2 13:01:05, 31.0054500, -83.0205222

Closeup platform on left bank, –jsq 13:01:05, 31.0051000, -83.0206500

Steep bluff, –GQ C2 13:48:42, 30.9841583, -83.0291444

Bend to the left, –jsq 13:49:33, 30.9834862, -83.0294494

Chris Mericle swimming –GQ C1, 09:59:59

Disembarking at a log –GQ C1, 10:28:38

jsq with WWALS sign –GQ C1, 10:28:48

Red boat boofing across log –GQ C1, 10:28:51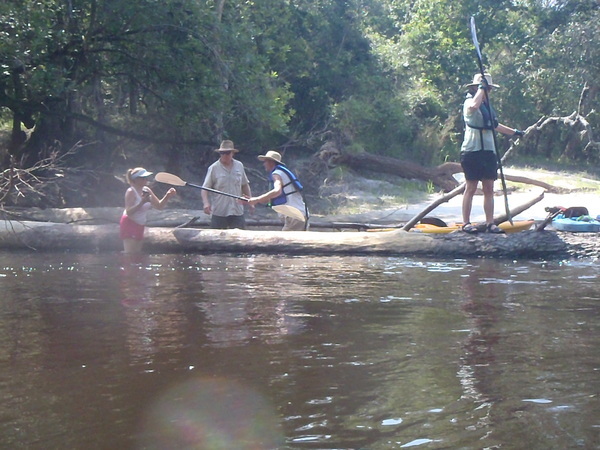 Shirley Kokidko on the log –GQ C1, 10:28:54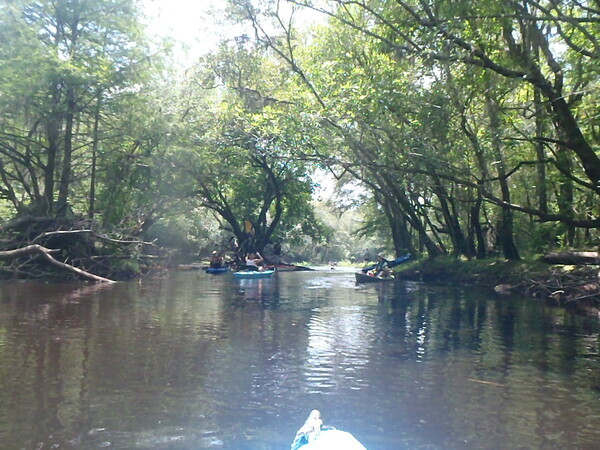 Scouting the Rocks –GQ C1, 13:07:47

Small island at The Rocks, –jsq 13:52:30, 30.9829540, -83.0292511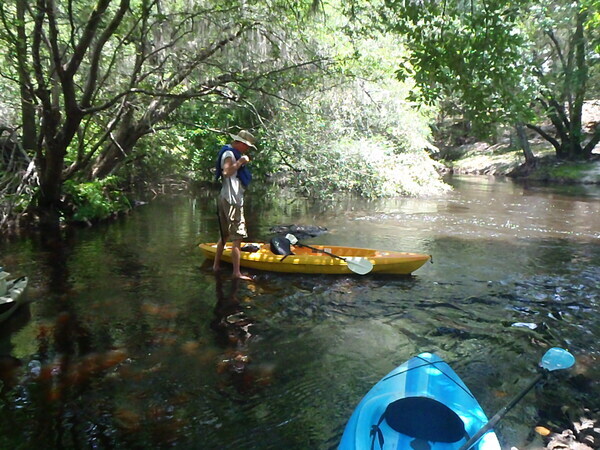 Chris Graham getting ready at The Rocks –GQ C1, 13:10:36

Movie: Chris Graham –GQ C1, jsq, through The Rocks, 13:10:37 (37M)

The Rocks, –jsq 13:57:43, 30.9829006, -83.0293197

The Rocks white water, –jsq 13:58:43, 30.9822082, -83.0297928

Gretchen Quarterman through The Rocks, 13:59:31, 30.9823131, -83.0297851

Gretchen Shooting The Rocks, –jsq 13:59:31, 30.9823131, -83.0297851

Five through The Rocks, –jsq 14:01:52, 30.9823799, -83.0297394

After The Rocks –GQ C1, 13:18:27

Crossbeam, –GQ C2 14:11:07, 30.9787056, -83.0305250

River South Holdings house, –GQ C2 14:11:56, 30.9781694, -83.0304722

Gretchen below a bluff, –jsq 14:12:06, 30.9780000, -83.0307000

Weeds on sand bank, –GQ C2 14:18:40, 30.9752472, -83.0337528

Nice beach, right bank, –jsq 14:18:46, 30.9753990, -83.0340194

Plant on a beach, right bank, –jsq 14:34:38, 30.9716434, -83.0359421

Gretchen at a hairpin right bend, –jsq 14:35:58, 30.9716072, -83.0359421

Mike Sims Jr., Chris M., Chris G. –GQ C1, 13:21:26

Deadfall on right bank –GQ C1, 13:42:23

Under some overhanging trees –GQ C1, 13:57:37

More red sand –GQ C1, 13:59:53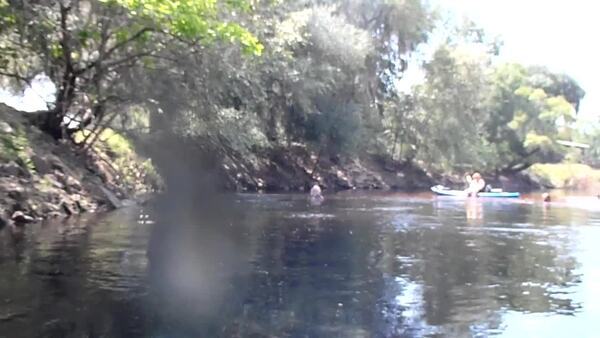 Movie: jsq in the Alapaha River –GQ C1, 14:17:45 (5.0M)

Dead Tree, –GQ C2 15:10:09, 30.9599944, -83.0357444

Beach and house off Purvis Lane, –GQ C2 15:11:54, 30.9592028, -83.0370944

House off of Purvis Lane, MOORE VIRGIL L, 745 GOOD HOPE RD, NAYLOR, GA 31641, –jsq 15:14:45, 30.9590339, -83.0369644

Concrete on bank, –GQ C2 15:16:02, 30.9588056, -83.0381250

Right around a sand spit –GQ C1, 14:42:01

Projecting tree, right bank –GQ C1, 14:45:13

Under an overhanding tree –GQ C1, 15:10:45

Left bank near Cherry Creek –GQ C1, 15:14:09

jsq approaching a beach –GQ C1, 15:16:45

Straight stretch, –GQ C2 15:27:55, 30.9574333, -83.0367889

House, right bank, –GQ C2 15:42:48, 30.9522222, -83.0412667

Another house off Purvis Lane, MOORE RAYMOND L & WENDY, –jsq 104 GANAS RD, NAYLOR, GA 31641, 15:44:28, 30.9522838, -83.0412826

Trees at Cherry Creek, –jsq 16:05:06, 30.9396896, -83.0426636

Boats in truck at Hotchkiss Road Landing, –GQ C2 16:17:31, 30.9370083, -83.0406583
-jsq, John S. Quarterman, Suwannee RIVERKEEPER®
You can help with clean, swimmable, fishable, drinkable, water in the 10,000-square-mile Suwannee River Basin in Florida and Georgia by becoming a WWALS member today!
https://wwals.net/donations/
Short Link: