Update 2016-03-24: Pictures.
Explore the Withlacoochee River as it meanders thru the edge of Valdosta, past Shadrick Sink, Cherry Creek, and under North Valdosta Road,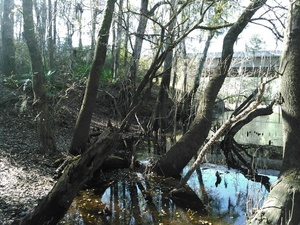 on the Withlacoochee and Little River Water Trail. Wave at some of your friends in the houses nearby.
Update 2016-03-19: Yes, there are potholes at Staten Road Bridge, but that never stopped us from paddling. Come on down!
Update 2016-03-14: Langdale Park will be closed, but VLPRA will let us in.
When: 9AM Sunday March 20th 2016
Put in: Staten Road Bridge, 7.1 miles north of Valdosta, Lowndes County.
Take out: Langdale Park Boat Ramp, 3781 N. Valdosta Rd., Valdosta, GA 31602, Lowndes County.
Distance: About 5 miles
Duration: About 2.5 hours
Shuttle: About half an hour
Take out: Langdale Park Boat Ramp
Also passing: Bay Branch, Sermons Branch (if that is its real name), Withlacoochee Slough at Cherry Creek, Cherry Creek Sink, and Stillhouse Branch coming out of Valdosta Country Club.
Responsible party: Chris Mericle
Local host: John S. Quarterman
Directions from Valdosta: head north on Ashley Street, turn left on Oak Street Extension,
Directions from I-75: take exit 22, go east on North Valdosta Road, left on Perimeter Road, left on Oak Street, continue onto Staten Road, cross Orr Road, and after about 2/3 of a mile just before the bridge, turn off to the right.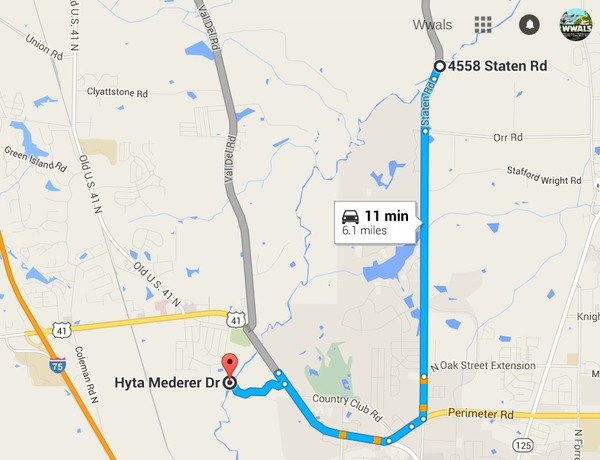 Too low: we're guessing 2 feet on either the at Skipper Bridge or US 41 gauges.
Too high: flood stage is 15 feet at Skipper Bridge and at US 41.
This outing is Free! But we encourage you to join WWALS today to support our fun outings and important work: /donations/. See our newsletters, and the press Releases and news. And consider joining the Withlacoochee and Little River Water Trail Committee.
Backup in case of low or high water:
Where: Ray's Millpond
When: 9AM March 20th 2016
Directions: From Valdosta, north on Bemis Road (GA 125) to Ray City, right on Jones St. to boat ramp.
Coming up even sooner:
For more outings and events as they are posted, see the WWALS calendar.
-jsq
You can join this fun and work by becoming a WWALS member today!