FOR IMMEDIATE RELEASE
FL-DEP grants hearing to WWALS against Sabal Trail pipeline under Suwannee River
September 4nd, 2015, Jasper, Florida — Yesterday the Florida Department of Environmental Protection (FL-DEP) asked for an administrative law judge (ALJ) "to conduct all necessary proceedings required by law and to submit a recommended order to the Department".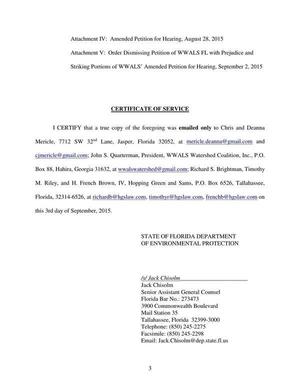 FL-DEP apparently interprets its Order of the previous day as dismissing only the petition of WWALS-FL, a Florida nonprofit corporation, and not that of the parent corporation, WWALS Watershed Coalition, Inc. (WWALS). So it seems WWALS gets a hearing after all.
WWALS president John S. Quarterman remarked:
"Everyone told us we'd never get a hearing, so apparently we interpreted the previous day's FL-DEP dismissal too broadly. But sometimes if you try, you succeed. And WWALS continues to try to stop the unnecessary, destructive, and hazardous Sabal Trail pipeline."
And it seems FL-DEP is reading the news about this case, because FL-DEP sent a copy of its request for ALJ directly to reporter Susan Salisbury at the Palm Beach Post, which has already published a story about that request, Florida DEP says anti-pipeline group's case to be heard.
The WWALS website has plain text of that ALJ request and the 88 page 5 megabyte PDF with all the attachments of the previous correspondence exchanged between FL-DEP and WWALS.
Parties interested in helping, please contact WWALS.
About WWALS
WWALS Watershed Coalition advocates for conservation and stewardship of the Withlacoochee, Willacoochee, Alapaha, Little, and Upper Suwannee River watersheds in south Georgia and north Florida through awareness, environmental monitoring, and citizen activities.
WWALS, formed in June 2012, is a 501(c)(3) nonprofit corporation with board members from Tift, Berrien, and Lowndes Counties Georgia, and Hamilton County, Florida, and members from New York state to south Florida.
As a Waterkeeper® Affiliate, WWALS has a duty to patrol and protect its watersheds "with an unwavering commitment to the rights of the community and to the rule of law." WWALS works for improved quality of life for all citizens whether they rely on water for drinking, recreation, agriculture, or industry.
WWALS promotes conservation, recreation, and the local economy through its annual BIG Little River Paddle Race, through frequent cleanups and boating outings, and through its Alapaha River Water Trail and the in-progress Withlacoochee and Little River Water Trail.
WWALS has opposed the Sabal Trail pipeline since at least 13 November 2013, when it filed a letter of opposition with FERC. A year later, 16 December 2014, WWALS officially filed a motion to intervene in FERC docket CP15-17. That docket is still open and others can also comment there, or even file a late "out of time" motion to intervene.
Last year WWALS recommended Sabal Trail as one of the worst offences against Georgia's waters, and the Georgia Water Coalition included it in the Dirty Dozen 2014.
WWALS has long supported solar energy in Georgia, including sending two board members to Atlanta to testify before the Public Service Commission in June 2013 before that body's historic vote to require Georgia Power to double its purchases of solar power. Georgia Power is now actively promoting solar power in Georgia. Georgia is the fastest-growing solar market in the country and has passed a solar financing law. Gulf Power is promoting solar power in Florida, which is poised to pass a similar solar law.
There is no longer any excuse for making the Sunshine State more dependant on fracked methane. It is time for Florida to turn to the sunlight.
Contact
John S. Quarterman, President

WWALS Watershed Coalition, Inc.
a WATERKEEPER® Affiliate
and a member of:
Florida Springs Council
Georgia Water Coalition
Georgia River Network
(national) River Network
wwalswatershed@gmail.com
229-242-0102
www.wwals.net
PO Box 88, Hahira, GA 31632
===
Short Link: