Water trails, wastewater, corporate agriculture, solar power, fracking, and pipelines: WWALS works with many issues in many ways, as part of our advocacy for conservation and stewardship through education, awareness, environmental monitoring and activities such as our monthly paddle outings.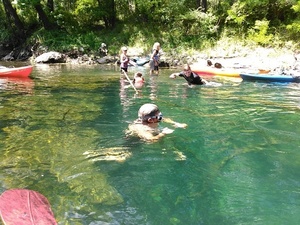 Here's an introduction to WWALS for the many new members and even more people following WWALS on facebook and twitter.
WWALS Watershed Coalition, or WWALS for short, is an IRS 501(c)(3) nonprofit corporation about everything related to water in the watersheds of the upper Suwannee River Basin (and to some extent the lower Suwannee River). All the waters, both below ground, including surficial groundwater, the Floridan Aquifer, and deeper aquifers, and waters aboveground, most obviously all ten or more rivers and many creeks, lakes, swamps, ponds, springs, and sinks, not to mention water treatment plants, sewage treatment plants, riparian buffers, and basically anything to do with water. Online you'll find many maps of our waters like the ones here.
Here's the WWALS Mission:
WWALS Watershed Coalition advocates for conservation and stewardship of the Withlacoochee, Willacoochee, Alapaha, Little, and Upper Suwannee River watersheds in south Georgia and north Florida through education, awareness, environmental monitoring, and citizen activities.
Remember, the name is WWALS, and the game is advocacy for conservation and stewardship. Activities range from the monthly paddle outings to speaking at county commissions to hosting speakers for the public about water trails, about photo contests, about well, anything related to WWALS watersheds, on the water, on the ground, below the ground, and in the air (thanks, Southwings!).
See our monthly member newsletters and our press releases and news coverage, plus our frequent blog posts, facebook page and group, twitter, YouTube, and meetup.
Naturally WWALS can't do everything, so we have to have goals; here are WWALS Goals for 2015. Right now we are finishing a series of strategy meetings to revise those goals and to sort them into high level goals, measurable objectives, strategies to achieve them, and specific activities; stay tuned.

WWALS on the Withlacoochee River near the Georgia-Florida line
Who are we? WWALS members range from California to New York State to Palm Beach County, Florida, with most living in south Georgia and north Florida. Most of the work is done by the board and Committees. If you want to join a committee, or even the board, you can fill out the application form.
WWALS is the WATERKEEPER® Alliance Affiliate for the upper Suwannee River. We cooperate with all the Riverkeepers of Florida, Georgia, and beyond, as well as many other watershed groups; see WWALS neighbors. We have always also worked with the lower Suwannee River because of the Valdosta wastewater situation, corporate agriculture purchases by investors from the west coast, and the infamous Sabal Trail fracked methane pipeline boondoggle.
You've probably noticed that's the first time I've mentioned Sabal Trail. WWALS has opposed that destructive, hazardous, and unnecessary invasion since 2013, and that opposition has eaten a huge amount of our time and resources. But it's just one thing we do. Even earlier, for example, we began promoting solar power, and we're proud to say we helped convert Georgia into the fastest-growing U.S. solar market. We try to keep the pipeline posts down to no more than every other one on the WWALS blog, facebook page, and twitter.
For more about WWALS, please see wwals.net, which is packed with information, ranging from Frequently Asked Questions to water trails, which are some of our favorite things to do.
So, welcome, and you can help!
-jsq
You can join this fun and work by becoming a WWALS member today!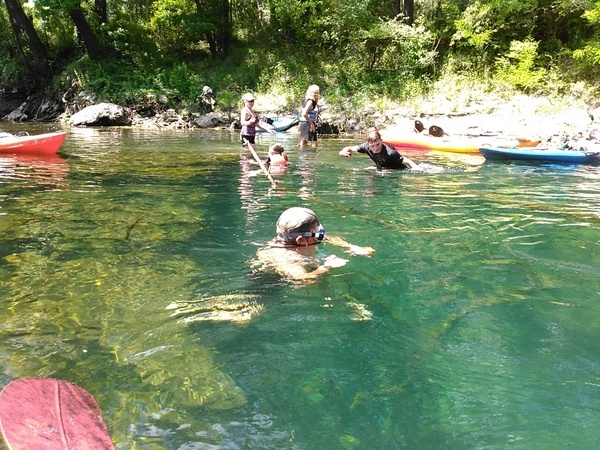 WWALS at McIntyre Spring, one of three second magnitude springs between US 84 and the state line on the Withlacoochee River, out of only six second magnitude springs in Georgia
Short Link: