It's come to this: Protesters Arrested at Sabal Trail Construction Site, by Jim Tatum for Our Santa Fe River 13 November 2016, from Cindy Swirko, Gainesville Sun, 12 November 2016,
Protesters of the Sabal Trail pipeline were arrested at the Gilchrist County construction site Saturday, and opponents of the gas transmission line said protests will continue.

The Gilchrist County Sheriff's Office arrested 14 people, including one who had locked himself to a tanker truck that was delivering water needed for the construction, said Cara Jennings, a pipeline opponent.

The others who were arrested were on the roadside holding signs, she added.

Jennings said the 14 remained in the Gilchrist County Jail Saturday and will have a first appearance hearing Sunday.

"With the exception of the person who was locked to the truck, everybody else was complying with the sheriff's orders but they chose to arrest everybody," Jennings told The Sun. "Absolutely, people are going to continue to protest. There is a call for a larger civil disobedience on Nov. 26."

Gilchrist sheriff's Chief Deputy Jeff Manning said Saturday that all of those arrested were interfering with the truck trying to get to the site.
He didn't mention Sabal Trail is interfering with all our drinking water in the Floridan Aquifer and with many people's personal property through eminent domain.
You may recognize Cara Jennings as the woman who confronted Florida governor Rick Scott in a Starbucks back in April and made national news. Tessa Stuart, Rolling Stone, 12 April 2016, Meet the Woman Who Yelled Florida's GOP Governor Out of Starbucks: Cara Jennings stands by calling Rick Scott an "asshole" — though there are a few other names she'd like to call him too.
Their exchange began with Jennings — who served as city commissioner of Lake Worth from 2006 to 2011 — asking the governor why he signed a law defunding Planned Parenthood, and ended with Scott scuttling out of the coffee shop empty-handed, Jennings calling after him, "Shame on you, Rick Scott. You're an embarrassment to our state!"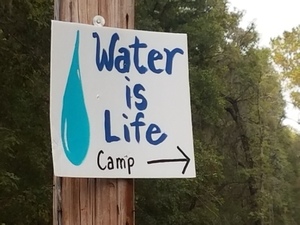 Scott's empire struck back with an attack ad. Cara has since been very active opposing the Sabal Trail fracked methane boondoggle. Which is very appropriate, since Rick Scott owns or did own stock in Spectra Energy, which is building Sabal Trail.
Gretchen Quarterman (WWALS acting Executive Directory) and John S. Quarterman (acting Waterkeeper) visited Water Is Life Camp last Sunday, November 6th 2016, and met some old friends, Mo Fashaux and her son.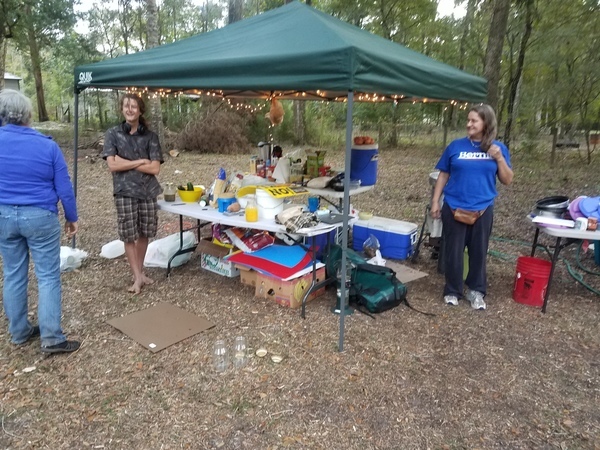 Mo and Cara and others now assisting Water is Life Camp were at Suwannee River State Park with WWALS against Sabal Trail September 13th 2016. And now they're at Water Is Life, which is not a WWALS project, but WWALS supports this and other nonviolent opposition to Sabal Trail. After more than three years of opposing this unnecessary, destructive, and hazardous pipeline boondoggle, WWALS welcomes the vastly increasing opposition to it.
WWALS fought a four-month Florida legal case and continues to oppose Sabal Trail in many other ways, including mapping, pictures from the air, and fighting Sabal Trail leaking drilling mud up into the Withlacoochee River in Georgia.
-jsq
You can join this fun and work by becoming a WWALS member today!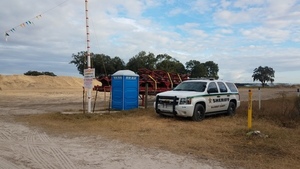 Gilchrist County Sheriff car guarding Sabal Trail HDD site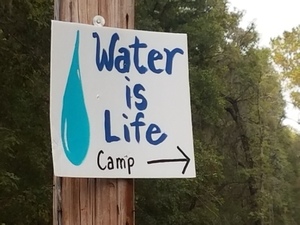 Water is Life Camp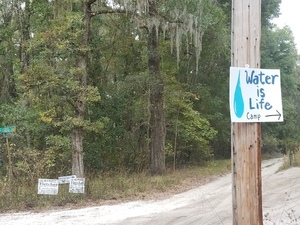 Water is Life Camp with road sign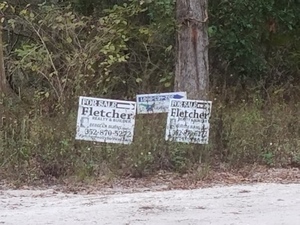 For Sale signs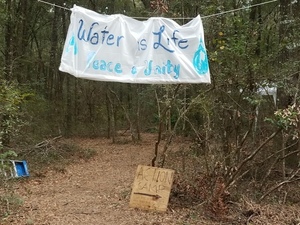 Water is Life, Peace & Unity, Action Camp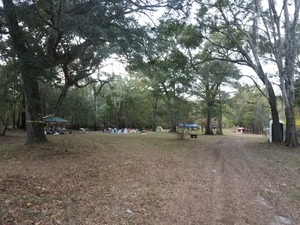 Many tents; since moved across the road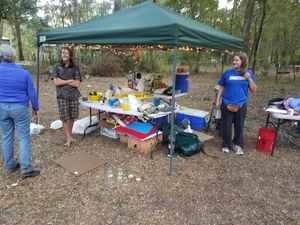 Gretchen meeting Mo again

Mo, Gretchen, fire pit
Short Link: