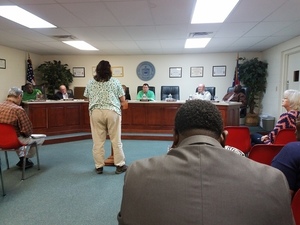 Unanimously, they passed a resolution to support the Withlacoochee and Little River Water Trail: the Brooks County Commission at their regular meeting of Monday November 7th 2016 (PDF). Thanks to the Commissioners, especially Chairman Myra Exum and Vice-Chairman Joe Wingate, for their warm welcome to WWALS. Thanks to Commissioners and staff, especially County Administrator Justin DeVane, for some very useful suggestions, such as numbering river landings as well as naming them, in the same way that county roads have both names and numbers to make it easier for emergency services.
The picture is of county agent Stephanie Hollifield reminding the Commissioners that Brooks County farmer Randy Dowdy set a world record for soybean yield of 171.8 bushels per acre, 10 bushels more than the previous record.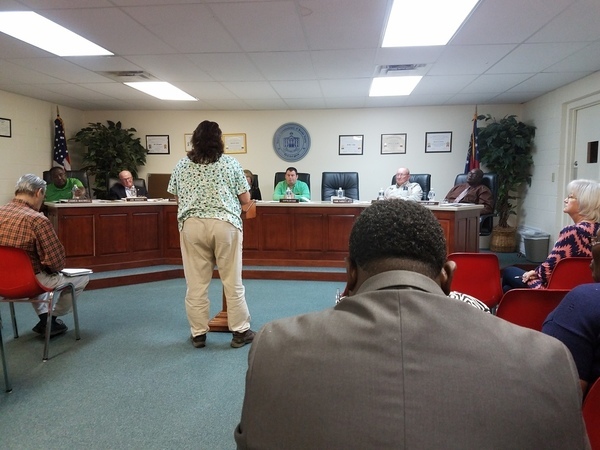 The Commissioners and staff had many questions, such as about safety. I said when it's too low, people could get stuck, exhausted, dehydrated, and when it's too high, they could get lost in the woods. Which is why the ARWT brochure includes a table of low and high levels and gages for them. Also we always recommended wear personal flotation devices.
Commissioners and staff clarified that Brooks County has no public river access. Nobody gets on the Little River at GA 76 from the Brooks County county side "unless they're lost"; instead they use Cook County Landing. Even the access on Lawson Mill Pond Road between Morven and Hahira is on private land, so we have removed it from the draft WLRWT pamphlet.
They are still looking for land to purchase for a boat ramp in Brooks County.
Below is the text of the resolution.
-jsq
You can join this fun and work by becoming a WWALS member today!
---
A RESOLUTION TO SUPPORT
THE WITHLACOOCHEE AND LITTLE RIVER WATER TRAIL
FOR THE COUNTY OF BROOKS, GA

WHEREAS, the Little and Withlacoochee Rivers running north to south forms the eastern boundary of Brooks County; and

WHEREAS, the Little and Withlacoochee Rivers are described in various guidebooks as "Intimate, shaded in its northern reaches) mysterious in its beauty", with abundant wildlife, limestone shoals, and sandbars; and

WHEREAS, the citizens of Brooks County value the natural resources and outdoor recreation opportunities afforded by the Little and Withlacoochee Rivers and their watersheds such as fishing, swimming, boating, and birding; and

WHEREAS, the citizens value the Little and Withlacoochee Rivers for water quality and habitat protection; and

WHEREAS, the citizens of the County will greatly benefit from the recreational and natural experiences provided by a water trail or blueway; and

WHEREAS, the Little, and Withlacoochee River watersheds also include creeks (especially Piscola and Okapilco Creeks), lakes, ponds, swamps, wetlands, and springs three second magnitude springs (Wade, McIntyre, and Arnold) that can be included in maps, brochures, and guides for the Withlacoochee and Little River Water Trail; and

WHEREAS, the Withlacoochee River watershed between US 84 and the Florida state line includes three second magnitude springs out of only six in the state of Georgia: the historic Blue (Wade) Spring, McIntyre Springs with its more than 4,000-foot explored underground cavern system, and the triple Arnold Springs; and

WHEREAS, existing hiking and biking trails can be linked to the Water Trail to encourage more multi-purpose participation; and

WHEREAS, this water trail is consistent with the comprehensive land use plan of Brooks County regarding its implementation measures to create greenway corridors using existing river and stream corridors and to create a network of greenways and trails; and

WHEREAS, the economy of the County will benefit from visitors to the Water Trail, and a Water Trail is a feature of quality of life that is attractive to businesses and employees and so may contribute to the economic development of the county; and

WHEREAS, the citizens of Brooks County and visitors from throughout the State of Georgia and the United States have for more than twenty (20) years regularly and openly enjoyed and exercised a right of passage by boat on the Little and Withlacoochee Rivers as they travel along Brooks County, thereby establishing a public easement of passage on the river; and

WHEREAS, the citizens of Colquitt, Cook, Berrien, and Lowndes Counties, as well as Madison and Hamilton Counties, Florida, all share in this valuable resource and have provided for access to one or both of the Withlacoochee or Little Rivers and to other streams or waterbodies in its watershed; and

WHEREAS, the citizens of Brooks County have indicated their support for the water trail at Brooks County Commission meetings; and

WHEREAS, the County has repeatedly supported parks and recreation with funding;

NOW, THEREFORE, BE IT RESOLVED by the Board of Commissioners of Brooks County, Georgia;

Section 1: The concept of the Withlacoochee and Little River Water Trail as outlined by the website /maps/withlacoochee-river-water-trail/ is approved and hereby incorporated by reference; and

Section 2: That the public easement of passage established by more than twenty (20) years of regular and open travel by boat on the Little and Withlacoochee Rivers along the boundary of Brooks County is hereby recognized and accepted by the Commission on behalf of the citizens of Brooks County, and visitors from throughout the State of Georgia and the United States; and

Section 3: That this Resolution shall take effect immediately upon its adoption; and

Section 4: That we hereby direct each department in the County to work individually, together, and with other governments and organizations to support and implement the water trail.

PASSED AND ADOPTED BY THE BOARD OF COMMISSIONERS OF BROOKS COUNTY, GEORGIA, this _____day of ______________ 2016.

By: ________________________________

Attest: _______________________________
Short Link: