The headline would read better in this order: "Congressional Committee trolls energy policy."
Suwannee Riverkeeper John Quarterman… said the science committee's chairman, U.S. Rep. Lamar Smith, R-Texas, was making "wild-eyed attempts to divert from the misdeeds of his patron, the fossil fuel industry."
Steve Patterson, Jacksonville.com, 8 March 2018, Congress: Russians trolled Florida pipeline debate,
Efforts by Russian internet trolls to destabilize the U.S. energy industry reached all the way to Florida and the controversy over construction of the Sabal Trail gas pipeline, according to a Congressional report.
For my previous takedown of that report, see Fossil fuels are a far bigger threat than the Russians.
And if the Russians were behind me spotting from the air this frac-out of Sabal Trail drilling mud up into the Withlacoochee River in Georgia, they're way behind in their payments.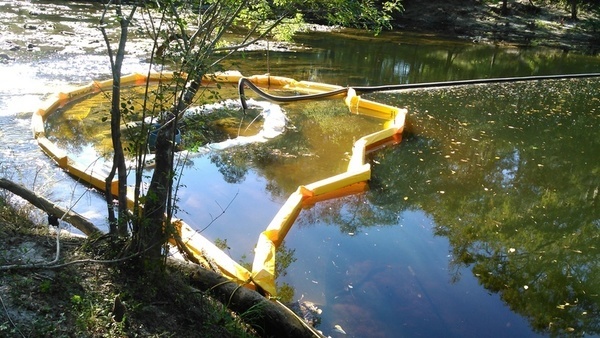 View from the south bank of Sabal Trail turbidity curtains and pipe from the north bank of the Withlacoochee River, about 2000 feet upstream from the US 84 bridge.
Photo: John S. Quarterman, October 22nd 2016.
Maybe I should send that Committee a bill for all the time and effort Sabal Trail has wasted over the past four years.
But people who fought Sabal Trail, which was completed last spring, said their decisions had nothing to do with trolls.
Actually, it's not complete. Last month FERC gave Sabal Trail a seven-month construction extension.
Suwannee Riverkeeper John Quarterman, who is continuing a court fight aimed at shutting down the pipeline, said the science committee's chairman, U.S. Rep. Lamar Smith, R-Texas, was making "wild-eyed attempts to divert from the misdeeds of his patron, the fossil fuel industry."
I think the reporter is actually referring to the Sierra Club case, currently delayed by FERC's cry of wolf before the DC Circuit Court can issue a mandate, which may shut it down.
Smith issued a statement when the report came out saying "the American people deserve to know if what they see on social media is the creation of a foreign power."

"Interesting that those Russians seem to be in just about everything these days," said Cindy Noel, who lives along the Santa Fe and was arrested at a 2016 pipeline protest.

Noel said by email that she got involved after a friend asked her to go to a government meeting about the pipeline, not because of social media. Noel said she and her husband went to pipeline protests in Lake City and Gainesville before a member of the activist group EarthFirst asked them to be part of protester training in their own neighborhood.

"Grassroots, boots-on-the-ground. We held an action camp on our property and started holding protests at the [pipeline's] river crossing" closeby, Noel said. She said pipeline opponents "really didn't need the help of outside groups."

Noel said she checked back through her Facebook account this month to see if she had shared posts from sources the science committee report listed as Russian accounts, but she didn't find any.
Thanks to reporter Steve Patterson for quoting people are actual pipeline opponents.
And thanks to Lamar Smith for getting Sabal Trail opposition in the news again.
-jsq, John S. Quarterman, Suwannee RIVERKEEPER®
You can join this fun and work by becoming a WWALS member today!
Short Link: