Sabal Trail is already shut down, while the DC Circuit Court delays its mandate to shut it down.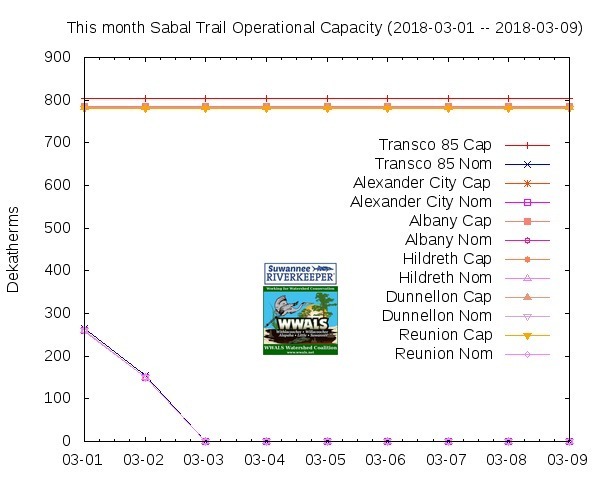 This month 2018-03-01 – 2018-03-09: Graphs by WWALS from Sabal Trail's own FERC-required Informational postings.
Here's the problem:
Courts rarely block pipelines, even if regulators are found to have fallen short of the National Environmental Policy Act, and they have never halted a pipeline for inadequate climate review.
It's long past time to get the clammy grip of fossil fuels off not only Congress and the agencies, but also off the courts.
Ellen M. Gilmer, E&E News, 8 March 2018, Shutdown averted for Sabal Trail pipeline,
The U.S. Court of Appeals for the District of Columbia Circuit granted federal regulators' request to delay issuing a mandate that would require Sabal Trail and the broader Southeast Market Pipelines Project to halt construction and operations.

The court agreed to hold off on the mandate through March 26. That gives the Federal Energy Regulatory Commission time to finish its work on a climate review the D.C. Circuit ordered last year.
The Court can still issue a mandate to shut it down, although that does seem less likely now. However, Sabal Trail has been shut down much of this year.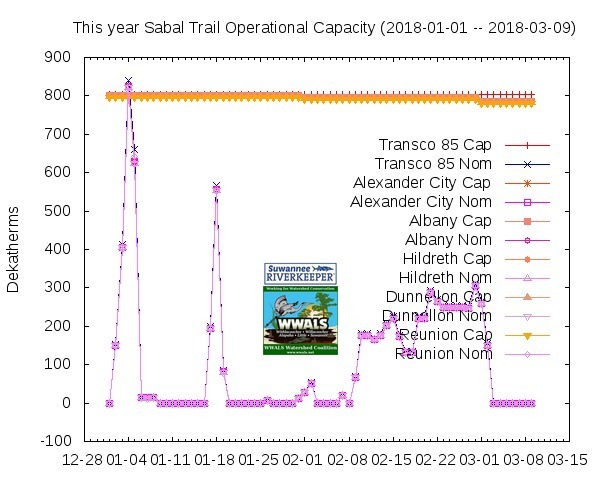 This year 2018-01-01 – 2018-03-09: Graphs by WWALS from Sabal Trail's own FERC-required Informational postings.
Yesterday's decision is a major blow to environmentalists whose legal challenge to Sabal Trail was set to make history by shutting down a major gas pipeline for climate concerns.
The irony of that paragraph while Sabal Trail is shut down right now, and has been much of the past five months.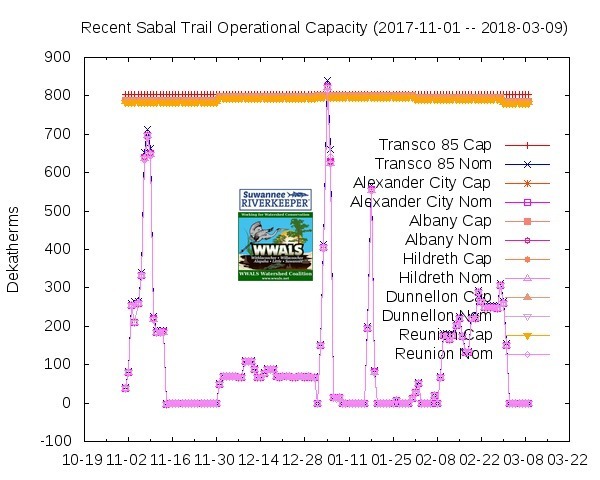 Recent Since 2017-11 – 2018-03-09: Graphs by WWALS from Sabal Trail's own FERC-required Informational postings.
"The courts have ruled that the environmental analysis of the Sabal Trail Pipeline was incomplete, and every day that it is allowed to operate is another day it does unknown harm to our climate and communities," Kelly Martin, director of the Sierra Club's Beyond Dirty Fuels campaign, said in an email.
It ain't over yet.
Sierra Club, et al., DC Circuit Court, Case Number 16-1329, 16 February 2018, RESPONSE OF PETITIONERS SIERRA CLUB, CHATTAHOOCHEE RIVERKEEPER, AND FLINT RIVERKEEPER TO RESPONDENT'S AND INTERVENOR-RESPONDENTS' MOTIONS TO STAY ISSUANCE OF MANDATE, SIERRA CLUB,
Intervenors' own declarations filed with their petition for rehearing demonstrated that vacatur would not result in blackouts or interruption of electrical service for any Florida residents. Zero or low amounts of gas flow in the pipeline during the months since the Court's opinion further underscores that this would not occur. Moreover, Duke Energy Florida is no longer listed as a customer in the Sabal Trail Transmission Index of Customers.
And yet again, Sabal Trail is shut down.
Intervenors fully assumed the risk of a lapse in Certificates. Before construction started, FERC warned them that "[t]o the extent that the company elects to proceed with construction, it bears the risk that … our orders will be overturned on appeal." Order Denying Stay at ¶ (March 30, 2016) [JA-1293]. And that "[i]f this were to occur, the company might not be able to utilize any new facilities, and could be required to remove them or to undertake further remediation." Id. FERC notified Intervenors in this Court that an unlawful certificate could be vacated. See Respondent's Opposition to Emergency Motions for Stay and Expedited Review (Doc. No. 1644296) at 17. At oral argument, the Court noted that FERC "can shut down the pipeline." Oral Argument Transcript at 49.

Nevertheless, Intervenors chose to initiate operations in June 2017, approximately two months after oral argument. Thus their financial harm is self-inflicted.
Yep. They knew the risks, and they did it anyway, so it's Sabal Trail's own fault.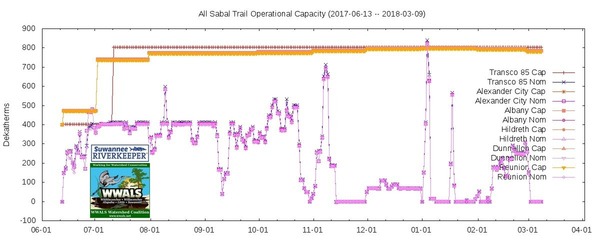 All 2017-06-13 – 2018-03-099: Graphs by WWALS from Sabal Trail's own FERC-required Informational postings.
-jsq, John S. Quarterman, Suwannee RIVERKEEPER®
You can join this fun and work by becoming a WWALS member today!
Short Link: