FOR IMMEDIATE RELEASE
Valdosta, February 28, 2016 — Two VSU students took First and Second Prizes Saturday for logos for the Withlacoochee and Little River Water Trail (WLRWT),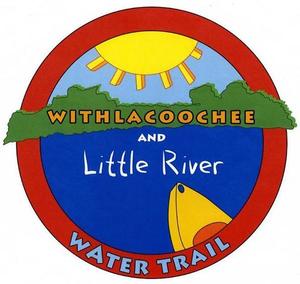 at a Workshop at VSU, with an art exhibit and silent auction, and talks on history, archaeology, hydrogeology, and safety, organized by WWALS Watershed Coalition, the Waterkeeper® Affiliate for the Withlacoochee, Little, Alapaha, and upper Suwannee Rivers. "These logo winners reflect the beauty and unusual nature of our blackwater rivers," said logo contest organizer Julie Bowland, a VSU Art Professor. She aded, "I've already heard talk that we may use both of these logos, one for color, and one for black and white."
Logo Contest Winners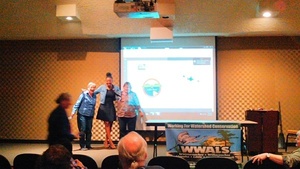 Eboni Patterson (center) won First Prize for the circle logo. Ann Reid (left) won Second Prize for the river trace logo. Both were congratulated by contest organizer Julie Bowland, who handed them checks from WWALS. The prizes were contributed by Chris Mericle for Hometown Handyman and by Dr. Bret Wagenhorst MD of Tifton Opthalmology.
The first prize winning logo, by Eboni Patterson, is quite colorful, cleverly integrating sun, trees, and water, with some of the colors resemble the tannin tea color of our blackwater rivers.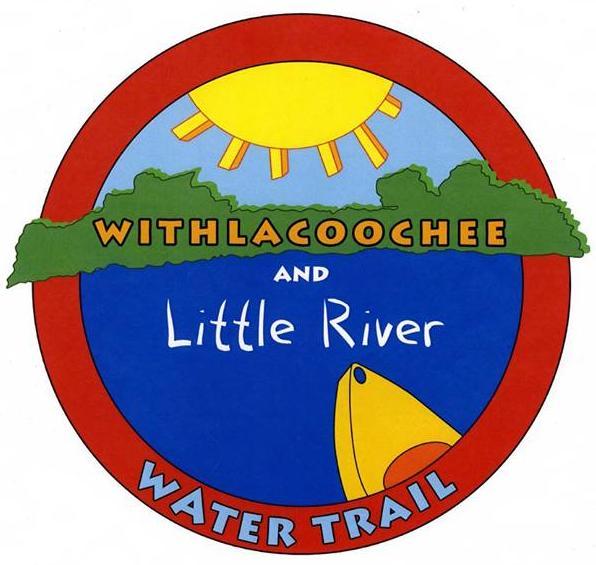 The second prize winning logo, by Ann Reid, is quite clever, with the river tracks forming both the kayak and the water it's on. It also uses few colors, so may be especially useful when we need to print in one color or black and white.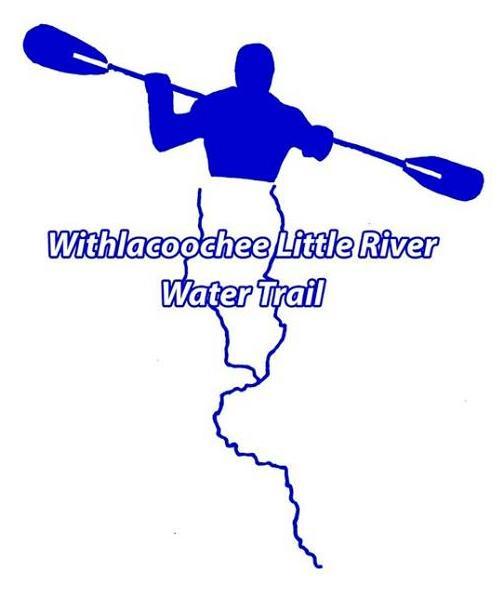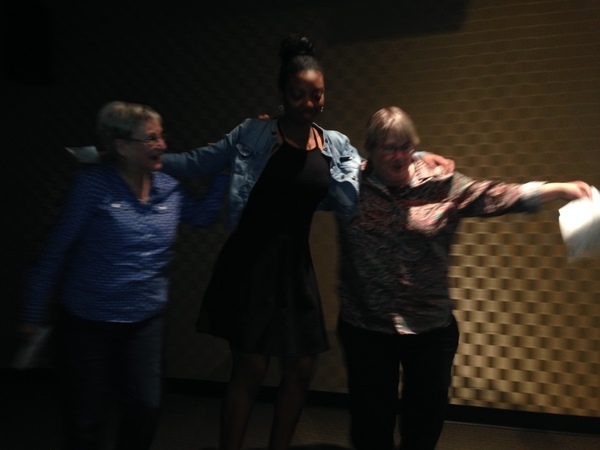 Participating Colleges
Students were invited to participate from all colleges or universities in the watersheds of the Withlacoochee and Little Rivers, including North Florida Community College in Madison, FL, Abraham Baldwin Agricultural College (ABAC) and the University of Georgia College of Agricultural and Environmental Sciences (UGA CAES) in Tifton, GA, wiregrass Georgia Technical College, Georgia Military College, and Valdosta State University in Valdosta, GA.
Both winners are students at VSU. As it happened, both were students of VSU Profesor Julie Bowland, the contest organizer.
Logo Contest Judges
The contest was organized by VSU Art Professor Julie Bowland, in conjunction with the WWALS Withlacoochee and Little River Water Trail Committee, including Chair Chris Mericle and members Bret Wagenhorst, Deanna Mericle, Chris Graham, John S. Quarterman, Julie Bowland, David Lambert, Tom Baird, and Tom Potter.
The Committee and WWALS thank the logo contest judges, who were:
The WLRWT Workshop
Speakers at the Withlacoochee and Little River Workshop at VSU's U.C. Theater Saturday included an unscheduled appearance by Game Warden Tim Hutto, who demonstrated life jackets and praised WWALS for listing access points with distances on the already-published Alapaha River Water Trail brochure. He especially liked the miles and hours from each access point to the next, because he said one of the biggest problems on our rivers is people putting in expecting to paddle or inner tube many miles before dark, when it just takes longer on the rivers than it does in a car. WWALS has already published online access points with miles and distances for the Little and Withlacoochee Rivers.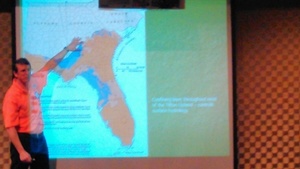 Scheduled speakers included WWALS Ambassador Dave Hetzel on the founding and mission of WWALS, Julie Bowland about the art auction and logo contest, WLRWT Committee Chair Chris Mericle about the water trail and his recent four-day trip, Tom Baird about the remains of past people and cultures still visible along the river, USGS Senior Hydrologist David Bosch about Southeast Watershed research activities (assisted by USGS Chemist Tom Potter), and welcome and wrapup by WWALS Treasurer and MC Gretchen Quarterman.
WWALS president John S. Quarterman invited everyone to paddle the Withlacoochee River March 20th from Staten Road to Langdale Park, and noted VLPRA had assured WWALS we would have access even though that park would be closed.
He said there was much fun and work to be done, and invited everyone to volunteer, to become a WWALS member, plus maybe a committee member or even a board member.
WWALS board member Bret Wagenhorst invited everyone to the fourth annual BIG Little River Paddle Race.
Art Exhibit and Silent Auction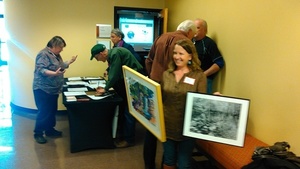 The Water Trail Workshop Saturday included an art exhibit and silent auction, with paintings by Julie Bowland and photographs by Bryan Garris, Bret Wagenhorst, and Gretchen Quarterman. Objects also auctioned included Withlacoochee River agate (fossilized coral) from south Georgia and north Florida (the Florida collector has a permit). "The auction was a success, judging by the portions that came through to WWWALS, a 501(c)(3) nonprofit," said Gretchen Quarterman, WWALS Treasurer.
About the Withlacoochee and Little River Water Trail
The Withlacoochee River is one of the few undammed left in this country, flowing in its unruly blackwater splendor for 115 miles past cypress, river birch, oaks, and pines through Georgia and Florida with shoals and springs to its confluence with the Suwannee River. The Little River is also an undammed tea-colored blackwater river below Reed Bingham State Park, which itself is the venue for the annual BIG Little River Paddle Race. The Little joins the Withlacoochee just outside Valdosta in Lowndes County, the largest population center in the entire Suwannee River Basin. See the Withlacoochee and Little River Water Trail web page.
As Suzanne Welander wrote in Withlacoochee River Paddling Guide, in Brown's Guide to Georgia,
"A list of Georgia's truly beautiful scenic rivers includes the Withlacoochee. Originating in Tift and Berrien counties, its dark waters flow south along the Cook County line into Lowndes County, where ¨it is joined by its largest tributary, (ironically) the Little River. Intimate, shaded in its northern reaches) mysterious in its beauty — the ¨Withlacoochee is one of the few Coastal Plain streams in which limestone ledges form small shoals. A second distinctive feature of the river ¨is the occasional white sandbar on the insides of bends, which are perfect for swimming or camping."
You can apply to join the Withlacoochee and Little River Water Trail Committee, which aims to develop a water trail which will promote stewardship, eco-tourism, and recreational use of the rivers through education, citizen advocacy, and environmental monitoring.
About WWALS
WWALS Watershed Coalition is the Waterkeeper® Alliance Affiliate for the Upper Suwannee River. WWALS advocates for conservation and stewardship of the Withlacoochee, Willacoochee, Alapaha, Little, and Upper Suwannee River watershed in south Georgia and north Florida through awareness, environmental monitoring, and citizen activities. WWALS is a member of Georgia River Network, Georgia Water Coalition, Florida Springs Council, Floridians Against Fracking, and national River Network.
Contact
John S. Quarterman, President
WWALS Watershed Coalition, Inc.
229-242-0102
wwalswatershed@gmail.com
www.wwals.net
PO Box 88, Hahira, GA 31632
-jsq
You can join this fun and work by becoming a WWALS member today!
Pictures by John S. Quarterman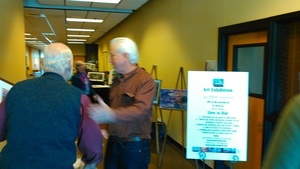 Dave Hetzel and Chris Mericle with Art sign

Dan Coleman surveys the art exhibit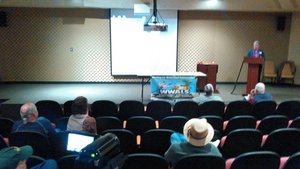 WWALS Treasurer Gretchen Quarterman welcoming everyone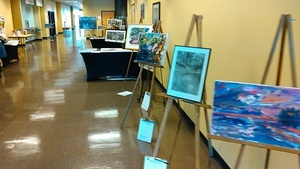 Paintings by Julie Bowland and photographs by Bryan Garris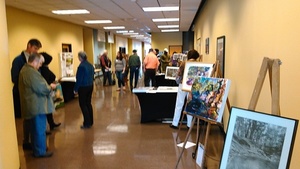 Dr. Leon Meeks, Amy Wiegenstein, photogrphs by Bryan Garris, paintings by Julie Bowland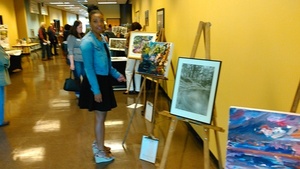 Logo First Prize winner Eboni Patterson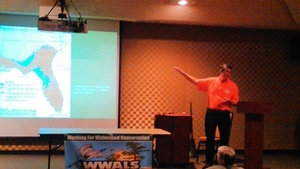 USGS Senior Hydrologist David Bosch about Southeast Watershed research activities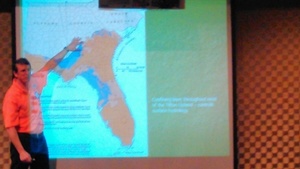 Underground water flow towards southeast in Floridan Aquifer –David Bosch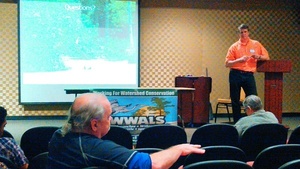 USGS Chemist Tom Potter assisting David Bosch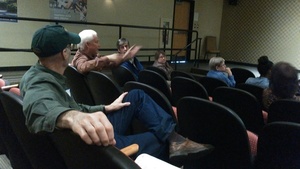 WLRWT Committee Chair Chris Mericle asks a question

WWALS Board member Bret Wagenhorst asks a question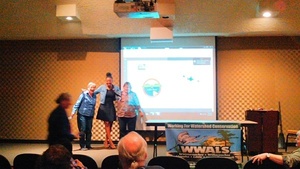 Logo winners with Julie Bowland (Gretchen Quarterman, Tom Potter, foreground)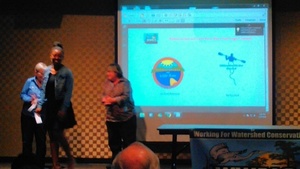 Ann Reid and Eboni Patterson, Logo Second and First Prize, with Julie Bowland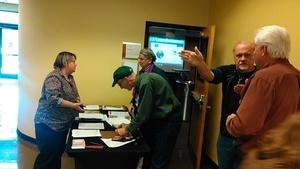 Art Auction settling up, Julie Bowland, Bret Wagenhorst, Gretchen Quarterman, Tom Potter, Chris Mericle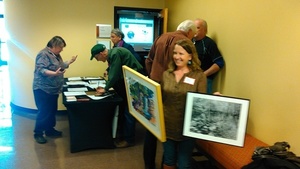 Deanna Mericle with Julie Bowland painting and Bryan Garris photograph she bought
Pictures by Gretchen Quarterman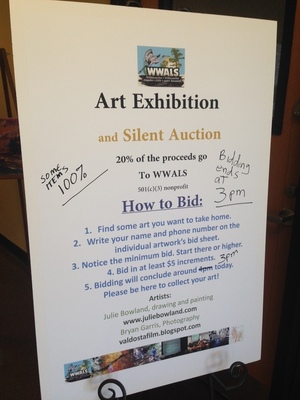 Art Exhibition and Silent Auction

David Bosch and Bret Wagenhorst inspect artworks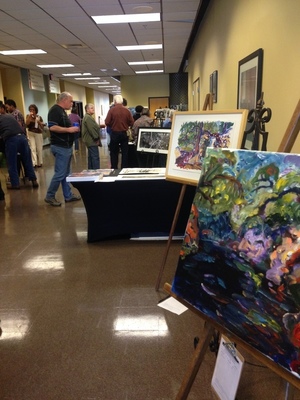 Tom Potter inspects artworks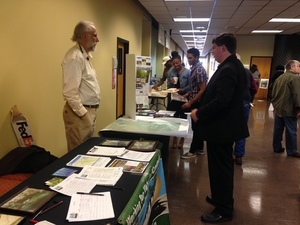 Logo First Prize winner Eboni Patterson looks at WWALS materials; WWALS Pres. John S. Quarterman and Photographer Bryan Garris in foreground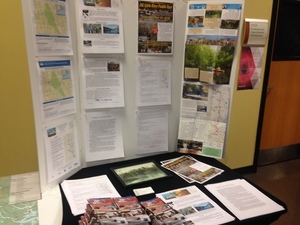 The WWALS materials Eboni was inspecting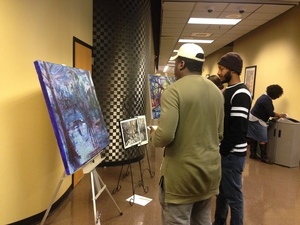 Students look at a painting by Julie Bowland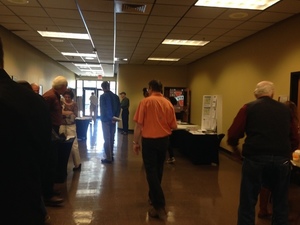 People bustling about the artworks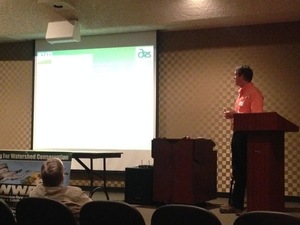 USGS Senior Hydrologist David Bosch about Southeast Watershed research activities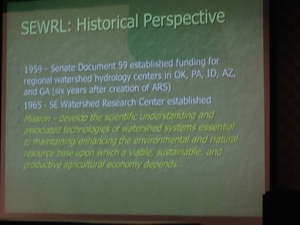 SEWRL: Historical Perspective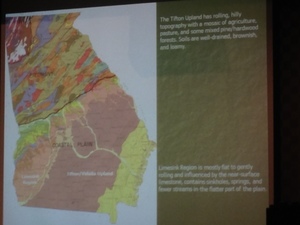 The Tifton Upland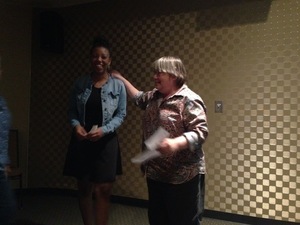 Eboni Patterson presented Logo First Prize by Julie Bowland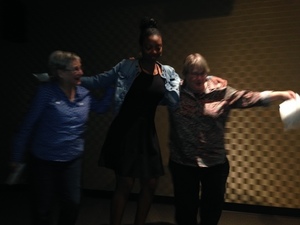 Ann Reid presented Logo Second Prize by Julie Bowland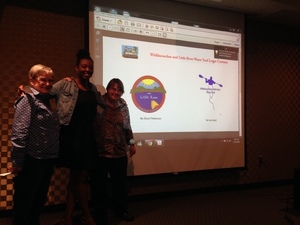 Ann Reid and Eboni Patterson, Logo Second and First Prize, with Julie Bowland
Short Link: