Update 2022-11-16: Videos: North Florida Regional Water Supply Plan meeting @ SRWMD 2022-11-15.
Update 2022-11-15: Figures and Tables from NORTH FLORIDA SOUTHEAST GEORGIA GROUNDWATER MODEL (NFSEG V1.1) 2019-08-01.
January will be six years since SRWMD and SJRWMD passed the North Florida Regional Water Supply Plan (NFRWSP), mostly ignoring input from interested parties. It's back for renovations, with public comment at the end of the workshops. Maybe you'd like to attend and comment, or send them written comments.
When: 2 PM, Tuesday, November 15, 2022
Put In: District Headquarters, 9225 CR 49, Live Oak, FL 32060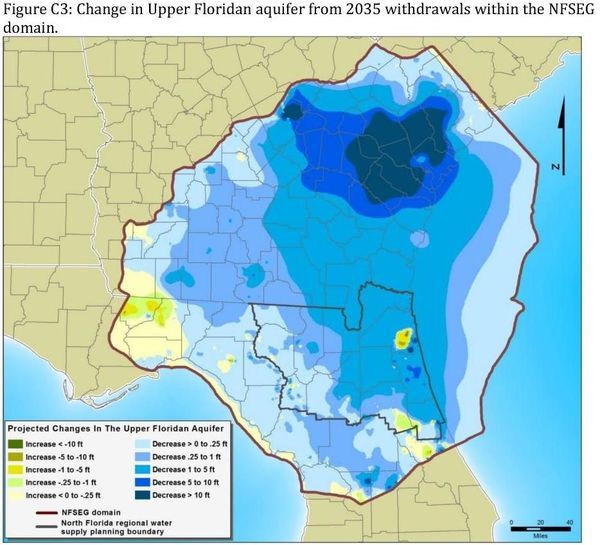 Figure C3: Aquifer surface change due to withdrawals in north Florida and south Georgia
From the announcement:
The North Florida regional water supply planning area is a planning region located within both the St. Johns River and the Suwannee River water management districts (Districts). The purpose of the meeting is to conduct a constraint assessment workshop for the public regarding the ongoing reevaluation of the 2015—2035 North Florida Regional Water Supply Plan (NFRWSP). Pursuant to section 373.709(1), Florida Statutes, this workshop will present the status, overall conceptual intent, and impacts of the plan on existing and future reasonable-beneficial uses and related natural systems. The North Florida Regional Water Supply Partnership is a collaborative effort among government agencies formed to address water resource issues in portions of both Districts. The St Johns River Water Management District is conducting a similar workshop of the same content. Additional information on these workshops, including the agenda, and the NFRWSP in general can be found at
https://northfloridawater.com
and
https://northfloridawater.com/watersupplyplan/index.html.

One or more Governing Board members from the Districts named above may attend the Constraint Assessment Workshop. Please register to join our workshop from your computer, tablet, or smartphone.

https://attendee.gotowebinar.com/register/6814746008066224654
Here is what WWALS said back six years ago: Less withdrawals, more water retention for North Florida Regional Water Supply Plan: WWALS PR 2016-12-06.
Including this: Proposal for the Recharge of the Upper Floridan Aquifer –D.J. Price P.G. 2016-11-14.
See also: The NFRWSP's job is to figure out how to increase water levels in the aquifer. –Dennis J. Price 2016-12-12.
The answer we got was: SRWMD responds about NFRWSP; come to Alachua Tuesday 2017-01-17.
And this happened in Alachua: Videos: NFRWSP Plan passed at joint SRWMD-SJRWMD Board Meeting 2017-01-17.
But SRWMD has come up with worse since then: Worse than Falling Creek: SRWMD wants to pipe Suwannee River water twice to Ichetucknee Springs 2021-06-08.
Here is the agenda for next Tuesday:
Agenda

North Florida Regional Water Supply Plan
Constraints Assessment Public Workshop

Suwannee River Water Management District
St. Johns River Water Management District

SRWMD Governing Board Room, 9225 CR 49, Live Oak, FL 32060
and Webinar

November 15, 2022, 2:00 p.m.

---

Welcome and Introductions

Water Supply Overview

Timeline for WSP and related activities in the Partnership

NFRWSP Water Resource Constraint Assessment

Next Steps — Project Solicitation

Public Comment

Closing Remarks
For more WWALS outings and events as they are posted, see the WWALS outings web page, https://wwals.net/outings/. WWALS members also get an upcoming list in the Tannin Times newsletter.
-jsq, John S. Quarterman, Suwannee RIVERKEEPER®
You can join this fun and work by becoming a WWALS member today!
Short Link: