FOR IMMEDIATE RELEASE
FERC on Earth Day rubberstamped Sabal Trail pipeline compressor stations in Georgia virus hotspot and Florida location that already leaked
Hahira, Georgia, April 23, 2020 — "What better way to say they don't care, than to do this on Earth Day?" said Suwannee Riverkeeper John S. Quarterman, "The Federal Energy Regulatory Commission (FERC) broke out its rubberstamp during a virus pandemic, ignoring its own process, as well as all the comments and our motion against, to approve turning on two compressor stations, including one in Albany, Georgia, which is the Georgia city worst-affected by the virus, and another at a site near Dunnellon, Florida, which already leaked multiple times even before construction started."
Methane from fracking is not more important to push through a Sabal Trail pipeline than the health of local people or even Sabal Trail's own workers.

Photo: WCJB, of Sabal Trail Dunnellon Compressor Station after leak, 2017-08-11.
Quarterman added, "With the price of oil negative and "natural" gas down 40%, it's time to ask investors if they want to go down with the fossil fuel ship of fools and time to ask politicians if they want this to be their legacy."
Only four weeks before the FERC approval letter, FERC opened a comment period on a request by Sabal Trail for six more months to finish these same facilities, in which Sabal Trail cited the virus pandemic as a reason. Contradicting its own request, and during that two-week period, Sabal Trail asked FERC to go ahead and approve turning on both compressor stations, which must involve Sabal Trail workers working during pandemic conditions.
FERC did not even mention that WWALS Watershed Coalition (WWALS) had moved to deny, nor any of the numerous other comments against turning on the compressor stations.
For that comment period, FERC required organizations to file again to be Intervenors, and only organizations that were already Intervenors on the process of the underlying FERC docket could do that. The only one to do that was Suwannee Riverkeeper for WWALS (see PDF). WWALS also filed a motion to halt Sabal Trail's Phase II (which is mostly these two compressor stations), to deny Sabal Trail's request to turn the compressor stations on, and to invoke penalties for already being two years late (see PDF). WWALS reasons to deny included repeated previous leaks at the Dunnellon Compressor Station of hazardous Mercaptan odorant, as well as leaks of methane at the Hildreth Compressor Station in Suwannee County, Florida, plus sinkholes at the Flint River near the Albany Compressor Station, the virus pandemic, and Sabal Trail gas going to private profit through Liquid Natural Gas (LNG) export, making a mockery of local landowners having to give up easements through federal eminent domain supposedly for the public good of the United States.
WWALS also noted that the only "justification" for Sabal Trail was alleged "market need," and there was none any more, since oil and gas prices had dropped through the floor. Since then, oil prices actually went negative for the first time in history, and natural gas prices are down more than 40% from only six months ago.
FERC did not address the concerns raised by Our Santa Fe River (OSFR) about leaks, breach of commitment, and endangering commmunities (see PDF):
Over the last several years leaks have gone unreported for substantial periods, one of which, at the Hildreth Compressor Station in 2018, directly affects our basin. There have been reports of unprofessional attempts to conceal leaks in the Dunnellon area as well as spills and road destruction near the Hildreth Compressor Station, and there is no telling how many successfully concealed issues have arisen.

Further, Sabal Trail "demonstrated" domestic need to justify eminent domain powers and now has secured connection with export facilities, not only breaching their commitment in securing eminent domain utilization but also further endangering communities adjacent to the pipeline terminus beyond the foreseeable future.

Our Santa Fe River, Inc. firmly believes that is long past time for FERC to discontinue Phase II and terminate the ill-conceived and dangerous Sabal Trail project immediately.
FERC did not even mention the excellent comment about the Albany compressor station as an environmental justice community by Sierra Club signed by Elly Benson, nor that comment's request to deny, nor Sierra Club's demand for a Supplemental Environmental Impact Statement (SEIS; see PDF).
See also Elly Benson's Sierra Club press release of yesterday and related news items.
Yesterday's FERC decision is just more of its long record of overruling anything but profit for pipelines.
On March 26, 2020, in a request hidden under "Supplemental Information", another of the three parts of the Southeast Markets PipelineProject (SMPP), Transcontinental Gas Pipe Line Company (Transco)'s Hillabee Expansion Project through Alabama, asked FERC to approve its Phase II (see PDF).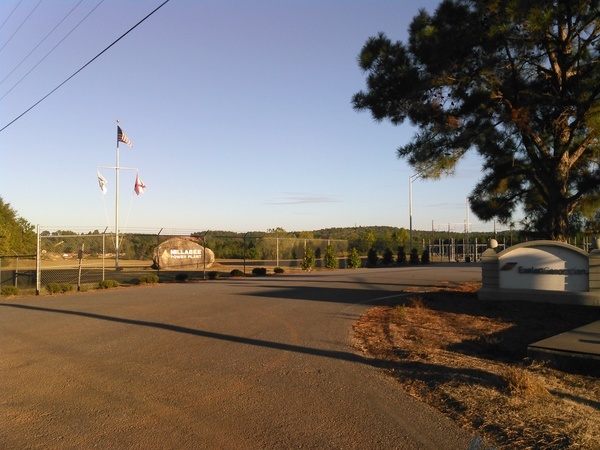 Transco Hillabee Power Plant, Exelon Corp., Brick Plant Rd., 33.004526, -85.905110, Sabal Trail begins at Hillabee Power Plant, by John S. Quarterman, for WWALS.net, 6 October 2016, Alexander City, AL.
On April 13, 2020, FERC rubberstamped Transco's request (see PDF) to turn on the "Rock Springs Loop located in Choctaw County, Alabama; Verbena Loop located in Chilton County, Alabama; and Compressor Station 95 located in Dallas County, Alabama." There were no public comments, because the public did not even know about the request. Thanks to WWALS member Janet Barrow for ferreting out where Transco even made the request.

Photo: Transco, of Station 95 building and workspace
Georgia Congressman Sanford Bishop (GA-02) wrote to FERC against Sabal Trail in November 2014 and May 2015, and again 26 October 2015, that time co-signed by Georgia Congress members Hank Johnson, David Scott, and John Lewis. Even after FERC rubberstamped a permit for Sabal Trail, Rep. Bishop on 27 May 2016 told FERC it shouldn't have done that before state Clean Water Act Section 401 permits were all finished, and he requested a Supplemental Environmental Impact Statement. Sabal Trail did respond a month later to that last letter, and to comments by Dennis Price, P.G., and WWALS, and Flint Riverkeeper. However, that response claimed everything had already been addressed, while ignoring numerous points raised.
FERC also overrode on behalf of Sabal Trail numerous objections by cities and counties, including Albany and Dougherty County, Georgia, and Marion County, Florida, where the Dunellon Compressor Station is. Sabal Trail even sued in county Superior Courts to overrule a massive-majority vote by the Georgia House of Representatives to deny Sabal Trail easements to drill under Georgia Rivers.
Yet all is not lost. Actually, with fossil fuel prices in the basement, this is a great time to get on with moving investors to renewable sun and wind power.
You can contact your state and federal elected and appointed officials and ask them to get FERC to revoke this travesty of a decision. Ask them to require FERC to do a Supplemental Environmental Impact Statement (SEIS), which Sierra Club pointed out is actually required when new information arises that affects the environment. If a virus pandemic isn't new information, nothing is.
While you're at it, ask them to reform FERC so it will stop ruberstamping pipelines. Ask them to remove eminent domain for private companies from the Natural Gas Act, as proposed in a 2017 bill by the Georgia House. That would stop these pipeline boondoggles cold.
Take it to the investors, as has worked with other pipelines and facilities. See for example Johan Sheridan, News10.com, 24 February 2020, Investors abandon Constitution Pipeline natural gas project,
ALBANY, N.Y. (AP) — In a major victory for environmentalists, investors are canceling plans for a nearly $1 billion natural gas pipeline project that would have run from Pennsylvania through New York and into New England.
Sabal Trail only lists as customers Duke Energy, Florida Power and Light (FPL), and Tampa Electric Company. FPL is owned by NextEra Energy, which years ago stopped mentioning Sabal Trail in its quarterly financial updates, and now claims to be a world leader in solar and wind renewable energy. Remind them of that.
One of the biggest investors in Spectra Energy before it was absorbed by Enbridge was VA529 of Virginia, the biggest college savings fund in the country. You can remind them as WWALS did three years ago that investing in risky stranded assets such as fracked methane pipelines is not consistent with saving for future college.
Other investors included Vanguard Grouop, State Street Corp, and Blackrock. I'd bet some of those are still investors in Enbridge and Williams Co. and NextEra. They need to be reminded what happened to investors in the Constitution Pipeline could happen to investors in Sabal Trail. Do it for Earth Day, as Bill McKibben recommends.
Thanks to WWALS member Cecile Scofield for reminding us to ask: do investors want to go down with the fossil fuel ship of fools, now that the price of oil is negative and the price of fracked methane is down 40%? Reuters, New York Times, 23 April 2020, Bankruptcy Looms Over U.S. Energy Industry, From Oil Fields to Pipelines.
Sierra Club could sue FERC and Sabal Trail again, like when they and Flint and Chattahoochee Riverkeepers won back in August 2017, as even FERC and Sabal Trail admitted a year later. But back then FERC also pulled a fast one, convincing the federal Sixth District Court to wait to issue a mandate until FERC had reissued a permit for Sabal Trail, so the mandate to halt only applied to the old, now unused, permit.
Still, it might be worth a try again.
Here's something to watch for, in page 3-273, Air Quality and Noise, in 3.0 Environmental Analysis, of the Southeast Markets Pipelines Project Final Envvironmental Impact Statement:
To ensure that the actual noise levels resulting from operation of the Alexander City, Albany, Hildreth, Dunnellon and Reunion Compressor Stations comply with our noise guidelines, we recommend that:

Sabal Trail should file noise surveys with the Secretary no later than 60 days after placing the equipment at the Alexander City, Albany, Hildreth, Dunnellon, and Reunion Compressor Stations into service. If full load condition noise surveys are not possible, Sabal Trail should provide interim surveys at the maximum possible horsepower load and provide the full load survey within 6 months. If the noise attributable to the operation of all of the equipment at each station under interim or full horsepower load exceeds an L dn of 55 dBA at the nearest NSA, Sabal Trail should file a report on what changes are needed and should install the additional noise controls to meet the level within 1 year of the in-service date. Sabal Trail should confirm compliance with the above requirement by filing a second noise survey for each station with the Secretary no later than 60 days after it installs the additional noise controls. The timeframes above apply to the in-service dates for each phase of construction at each station.
The bold emphasis is by FERC in the original document from years ago.
Congratulations to Sierra Club for making news out of this most recent FERC rubberstamp.
Sierra Club, 22 April 2020, press release.
Elly Benson, Sierra Club blog, 22 April 2020, A Coronavirus Hot Spot Gets More Air Pollution,

Happy Earth Day. The Federal Energy Regulatory Commission (FERC) and Sabal Trail Transmission, LLC (the company behind the 515-mile Sabal Trail Pipeline) are celebrating by starting up a polluting compressor station in an environmental justice community that is a global hot spot for the COVID-19 crisis.

You read that right.

For years, residents of Albany, Georgia have been fighting Sabal Trail's plan to operate this massive industrial facility in their community. In 2015, Georgia's members of the Congressional Black Caucus told FERC that building the compressor station in "an already overburdened and disadvantaged African-American community" would be an environmental justice disaster. Now that environmental justice disaster is being compounded by another.

Albany has one of the highest per capita death rates from COVID-19 in the country. The coronavirus kills by invading and attacking the respiratory system. Sabal Trail's compressor station will release dangerous air pollutants known to cause respiratory problems, decrease lung function, and make the lungs more susceptible to infection.

In fact, researchers have discovered a link between air pollution and COVID-19 death rates. A study from Harvard University's T.H. Chan School of Public Health found that an increase of only one microgram per cubic meter in fine particulate matter is associated with a 15 percent increase in the COVID-19 death rate. The Albany compressor station has the potential to emit 9.14 tons per year of particulate matter.

Another study found that exposure to nitrogen dioxide may be one of the most important contributors to fatalities caused by COVID-19. The Albany compressor station has the potential to emit 46.77 tons per year of nitrogen oxides.

The population of Albany is more than 70 percent African American, and the compressor station is located in a neighborhood that is more than 80 percent African American. FERC has acknowledged that African American populations have an increased risk of experiencing negative health impacts due to decreased air quality. (FERC nonetheless has exhibited a disturbing pattern of approving pipeline companies' plans to site compressor stations in predominantly African American communities.)

We know that FERC is aware of these grim statistics. Last week, the Sierra Club sent a letter to FERC urging it to deny Sabal Trail's request to start operating the compressor station. The letter explained that the compressor station is located in an environmental justice community, that compressor stations emit harmful air pollutants that cause respiratory problems, that environmental justice communities are particularly vulnerable to increased pollution, that air pollution has been linked to higher COVID-19 death rates, that African Americans have been infected and killed at disproportionate rates across the country, and that Albany is a global COVID-19 hot spot.

Our letter requested that FERC halt construction of the compressor station and deny Sabal Trail's request to place it into service. We also requested that, in light of Albany's emergence as a COVID-19 hot spot, FERC prepare a supplemental Environmental Impact Statement to analyze the public health and environmental justice impacts of operating a compressor station that would further burden vulnerable populations. (Along with local partners, the Sierra Club previously challenged FERC's conclusion that the impacts of the pipeline and compressor station would not disproportionately fall on environmental justice populations.)

Today, on Earth Day, FERC nonetheless approved Sabal Trail's request to begin operating the polluting compressor station. As Dougherty County Commissioner Gloria Gaines stated, "It is egregious at the moment in time when our community is suffering from this dangerous respiratory disease, that disproportionately impacts environmental justice communities, for FERC to rubber-stamp this project without any review.

"It is an affront to our community."

Elly Benson is a staff attorney with the Sierra Club's Environmental Law Program

See more stories by this author
FERC Accession Number: 20200422-3020, 22 April 2020, "Letter order granting Sabal Trail Transmission, LLC's 04/08/2020 request to place into service the Sabal Trail Project Phase II Facilities, etc. under CP15-17." See also PDF.
20200422-3020 FERC PDF (Unofficial) 04/22/2020

FEDERAL ENERGY REGULATORY COMMISSION
WASHINGTON, D.C. 20426

OFFICE OF ENERGY PROJECTS

In Reply Refer To:
OEP/DG2E/Gas Branch 3
Sabal Trail Transmission, LLC
Sabal Trail Project
Docket No. CP15-17-000

VIA Electronic Mail

April 22, 2020

Ms. Lisa A. Connolly
General Manager, Rates and Certificates
Lisa.Connolly@enbridge.com

Re: Authorization to Commence Service of Phase II Facilities

Dear Ms. Connolly:

I grant Sabal Trail Transmission, LLC's (Sabal Trail) April 8, 2020 request to place into service the Sabal Trail Project Phase II Facilities, specifically the Albany and Dunnellon Compressor Stations located respectively in Dougherty County, Georgia and Marion County, Florida. Your request complies with environmental condition 9 of the Federal Energy Regulatory Commission's February 2, 2016 Order Issuing Certificates and Approving Abandonment (Order).

Based on our most recent field inspection, Sabal Trail's construction status reports, and the representative photos attached to your request, rehabilitation and restoration of affected areas is proceeding satisfactorily. As stated in your request, Sabal Trail commits to retaining environmental inspection staff, monitoring lands affected by the Phase II Facilities, and addressing any restoration issues, as necessary. It is my expectation that these commitments will be honored and that any restoration issues that should arise will be addressed fully and promptly.

I remind you that Sabal Trail must comply with all applicable remaining terms and conditions of the Order. If you have any questions regarding this authorization, please contact Mr. John Peconom, Environmental Project Manager at (202) 502-6352.

Sincerely,
[signed]
J. Rich McGuire
Director, Division of Gas —
Environment and Engineering
It's long past time to stop pipeline boondoggles from ravaging our waters, land, and air, and to use those funds for renewable solar and wind power.
-jsq, John S. Quarterman, Suwannee RIVERKEEPER®
You can join this fun and work by becoming a WWALS member today!
Short Link: