Update 2020-11-30: WWALS asks GA Gov. Kemp to stop strip mine near Okefenokee Swamp 2020-11-30.
Monday morning I heard from a mining source that the U.S. Army Corps of Engineers will soon announce that, due to federal rollback of the Waters of the U.S., the Corps no longer considers the streams next to the proposed mining site to be under Corps jurisdiction, even though they are far too near the Okefenokee Swamp.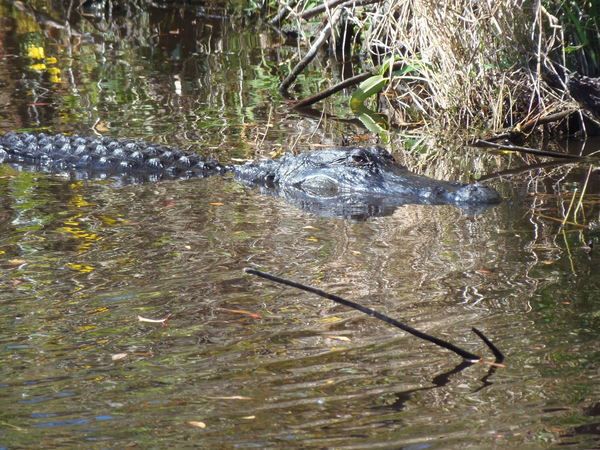 Photo: Gretchen Quarterman, alligator in the Okefenokee Swamp
Twin Pines Minerals (TPM) lost no time announcing the next day that they intended to plow ahead. Molly Samuel, WABE, 20 October 2020, Proposed Mine Near Georgia's Okefenokee Swamp Gets A Major Hurdle Removed.
But TPM admits they still need five Georgia permits. So let's try to stop those.
As we've been saying for a long time, please write to state and federal regulators, to the Georgia governor and the Georgia DNR board, and to state and federal elected officials. See below for how.
Also, there's an election going on. As an IRS 501(c)(3) educational nonprofit, WWALS can't tell you what candidate or party to vote for. But we can ask you to vote for the environment.
If the Okefenokee Swamp, which is the headwaters of the Suwannee and St. Marys Rivers, is not protected, what is? If you live in south Georgia or north Florida, your drinking water probably comes from the Floridan Aquifer or groundwater above it, all of which can be adversely affected by strip mining or other pollution.
Please vote for the environment.
Georgians, don't forget to vote for Amendment 1 while you're voting.
Russ Bynum, Associated Press, 21 October 2020, Trump environmental rollback spurs mining near Georgia's Okefenokee Swamp.
The Army Corps reassessed certain wetlands at Twin Pines' request after Trump's new clean-water rules took effect in June. The agency confirmed Tuesday that, under the rules change, the tract would no longer require a federal permit.

"This property now has Continue reading →