FOR IMMEDIATE RELEASE
WWALS petition against Sabal Trail dismissed by FL-DEP on technicality, not real issues
2015-09-04: New DEP message, new press release.
September 3rd, 2015, Jasper, Florida — Despite the Florida Department of Environmental Protection (FL-DEP)'s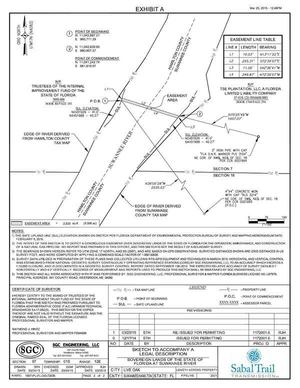 Order of yesterday dismissing WWALS' amended petition with prejudice on a technicality, including an attempt to deny FL-DEP's responsibilities to the citizens of Florida, WWALS and WWALS-FL continue to point out the obvious: Spectra Energy's proposed Sabal Trail fracked methane pipeline is not in the public interest, would interfere with property rights far beyond the crossing of the Suwannee River, would not maintain natural conditions, and could have severe adverse effects on fish, wildlife, public recreation, and navigation, especially if it blew up like a Spectra Energy pipeline did in May under the Arkansas River.
Hamilton County, FL resident Deanna Mericle, who wrote much of the WWALS amended petition that was dismissed, responds,
"DEP is doing a disservice to the citizens of Hamilton and Suwannee Counties by not hearing the legitimate argument and hiding behind a questionable technicality. I am sorely disappointed but not surprised."
Yesterday WWALS received an Order from FL-DEP dismissing the August 28th Petition of WWALS and WWALS-FL against FL-DEP's intent to issue a permit for Sabal Trail to bore its 36-inch fracked methane pipeline under the Suwannee River and through the fragile karst limestone containing our drinking water in the Floridan Aquifer, which also supplies the springs so important to Florida's major industry of tourism.
WWALS has met all of DEP's requirements for standing that they sent us in their denial of the initial petition. And we met their timeline, as FL-DEP admitted in its Order of yesterday, "On August 28, 2015, WWALS timely filed its amended petition for administrative hearing (Amended Petition)."
WWALS Watershed Coalition, Inc. (WWALS) even incorporated a Florida subsidiary, WWALS Watershed Coalition Florida, Inc. (WWALS-FL) to meet FL-DEP's advice that a Florida corporation was required.
Yet FL-DEP dismissed the WWALS amended petition on a technicality:
"The Amended Petition also served as an initial petition for administrative hearing from a newly formed nonprofit subsidiary corporation, WWALS Watershed Coalition Florida, Inc. (WWALS-FL),2 As discussed below, the Department must dismiss the untimely initial petition of WWALS-FL."
That's right, FL-DEP claimed WWALS-FL wasn't incorporated soon enough even though it was incorporated after FL-DEP indicated it was necessary, and within the deadline of the order indicating that.
WWALS President John S. Quarterman remarks,
"This is a Catch-22 worthy of Joseph Heller. Even Franz Kafka couldn't have written a better bureaucratic maze."
FL-DEP didn't stop there: yesterday's Order attempted to strike from the public record WWALS' points about Sabal Trail's likely ill effects on property values, insurance rates, and the economic benefits of eco-tourism. Yesterday's Order claims FL-DEP does not address non-environmental issues, despite, as WWALS pointed out back in July, FL-DEP's own notice of intent to issue a permit to Sabal Trail cites as basis that the activity would be "in the public interest" and "will not interfere with the riparian rights of adjacent property owners".
Hamilton County resident and WWALS-FL registered agent Chris Mericle summed it up:
"We can not continue to carve up our countryside like a cheap piece of meat and sell it to the highest bidder."
FL-DEP also claimed it was immune to conflicts of interest:
"In addition, WWALS' allegation regarding a conflict of interest under subsection 112.311(5), Florida Statutes, is not material in this proceeding."
Nevermind the first footnote in yesterday's FL-DEP Order:
1 Subsection 253.0020 ), Florida Statutes provides that "[t]he Department of Environmental Protection shall perform all staff duties and functions related to the acquisition, administration, and disposition of state lands, title to which is or will be vested in the Board of Trustees of the Internal Improvement Trust Fund. … Unless expressly prohibited by law, the board of trustees may delegate to the department any statutory duty or obligation relating to the acquisition, administration, or disposition of lands, title to which is or will be vested in the board of trustees."
And that's the issue, as WWALS and WWALS-FL spelled out in the amended petition:
Whether there is a conflict of interest among the Board of Trustees of Florida's Internal Improvement Trust Fund, who own the submerged lands being affected by the proposed pipeline. Specifically, Governor Rick Scott, a member of this Board, has financial interests in Spectra Energy, the parent company of Sabal Trail Transmissions, as well as in Williams Company, the owner of the Transco pipeline from which Sabal Trail plans to get its gas. The governor and other public officials are prohibited by state ethics laws from owning stock in businesses subject to their regulation or that do business with state agencies.
If such a conflict of interest is outside FL-DEP's scope, FL-DEP needs to refer that conflict to some higher authority. For example, by holding the hearing WWALS and WWALS-FL requested. Isn't the Sunshine State is supposed to have sunshine laws and operate in the sunlight?
WWALS President John S. Quarterman also remarked,
"Striking part of a petition after dismissing it: is that like deleting email after you sent it? Does FL-DEP not know all these documents are public record and there are multiple copies all over the Internet?

"I don't see how this makes allegations of conflict of interest go away, especially when they've recently been published by Dan Christensen in Florida Bulldog and the Miami Herald, by Christopher Curry in the Ocala StarBanner, by Tim Elfrink in the Miami New Times, by Christopher Heath on WFTV, and others, with many of those stories being picked up by other news media.

"If anything, trying to strike that conflict from the public record only feeds that growing scandal."
WWALS is considering its options, including potentially an appeal.
Parties interested in helping, please contact us.
About WWALS
WWALS Watershed Coalition advocates for conservation and stewardship of the Withlacoochee, Willacoochee, Alapaha, Little, and Upper Suwannee River watersheds in south Georgia and north Florida through awareness, environmental monitoring, and citizen activities.
WWALS, formed in June 2012, is a 501(c)(3) nonprofit corporation with board members from Tift, Berrien, and Lowndes Counties Georgia, and Hamilton County, Florida, and members from New York state to south Florida.
As a Waterkeeper® Affiliate, WWALS has a duty to patrol and protect its watersheds "with an unwavering commitment to the rights of the community and to the rule of law." WWALS works for improved quality of life for all citizens whether they rely on water for drinking, recreation, agriculture, or industry.
WWALS promotes conservation, recreation, and the local economy through its annual BIG Little River Paddle Race, through frequent cleanups and boating outings, and through its Alapaha River Water Trail and the in-progress Withlacoochee and Little River Water Trail.
WWALS has opposed the Sabal Trail pipeline since at least 13 November 2013, when it filed a letter of opposition with FERC. A year later, 16 December 2014, WWALS officially filed a motion to intervene in FERC docket CP15-17. That docket is still open and others can also comment there, or even file a late "out of time" motion to intervene.
Last year WWALS recommended Sabal Trail as one of the worst offences against Georgia's waters, and the Georgia Water Coalition included it in the Dirty Dozen 2014.
WWALS has long supported solar energy in Georgia, including sending two board members to Atlanta to testify before the Public Service Commission in June 2013 before that body's historic vote to require Georgia Power to double its purchases of solar power. Georgia Power is now actively promoting solar power in Georgia. Georgia is the fastest-growing solar market in the country and has passed a solar financing law. Gulf Power is promoting solar power in Florida, which is poised to pass a similar solar law.
There is no longer any excuse for making the Sunshine State more dependent on fracked methane. It is time for Florida to turn to the sunlight.
Contact
John S. Quarterman, President

WWALS Watershed Coalition, Inc.
a WATERKEEPER® Affiliate
and a member of:
Florida Springs Council
Georgia Water Coalition
Georgia River Network
(national) River Network
wwalswatershed@gmail.com
229-242-0102
www.wwals.net
PO Box 88, Hahira, GA 31632
===
Short Link: